---
The Democrat Party should be banned…
We knew at the moment serious investigations got underway (not the smoke and flashing blue lights Mueller is currently running and coming up empty on) real discoveries on just how crooked our government was during the Obama years would come to light. Real crimes are now being brought to light and they MUST be followed up by actual criminal charges and be brought before a judge.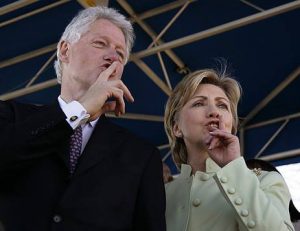 'Worse Than Watergate'
'Shocking' House Intel Memo Allegedly Reveals FISA Abuse by Senior DOJ and FBI Officials Related to Trump Campaign Investigation
Members of the House on Thursday said they viewed a "shocking" classified memo allegedly detailing abuse of the Foreign Intelligence Surveillance Act (FISA) by senior Justice Department and Federal Bureau of Investigations officials in relation to the investigation of the Trump campaign and called for it to be declassified and available to the public immediately.
"It's troubling. It is shocking," Rep. Mark Meadows (R-NC) told Fox News. "Part of me wishes that I didn't read it because I don't want to believe that those kinds of things could be happening in this country that I call home and love so much."
"The facts contained in this memo are jaw-dropping and demand full transparency. There is no higher priority than the release of this information to preserve our democracy," said Rep. Matt Gaetz (R-FL), a member of the Judiciary Committee, which oversees the DOJ and the FBI.
Another Judiciary Committee member, Rep. Steve King (R-IA), called what he saw in the memo "sickening" and said it was "worse than Watergate."
I have read the memo. The sickening reality has set in. I no longer hold out hope there is an innocent explanation for the information the public has seen. I have long said it is worse than Watergate. It was #neverTrump & #alwaysHillary. #releasethememo

— Steve King (@SteveKingIA) January 19, 2018