---
This proves once and for all that Germany is only against some kinds of Nazis, but not all of them.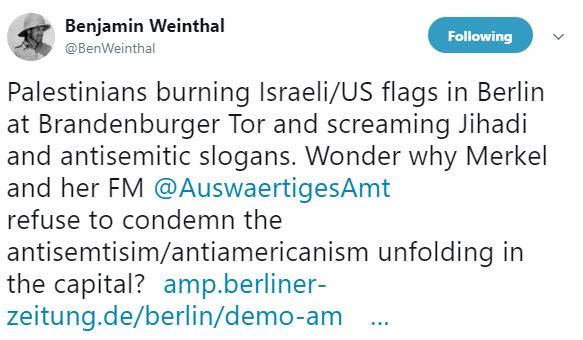 That's her new support base, she has her priorities. 'Never Again' has now been reduced to 'let's see how the polls are shaping up'…
Demo at the Brandenburg Gate Palestinians burn Israeli flags
The mood was heated up. Many people shouted, "Allahu Akhbar" (God is the greatest) and "Allah loves his martyrs". Also anti-Semitic slogans were chanted. There were several arrests, including for violation of the mantle ban. A water cannon was ready, but was not yet used.
The police were in the lead with 450 officials on the ground, according to the officials. On Wednesday, US President Donald Trump announced that the US wanted to move their message from Tel Aviv to Jerusalem. (KOP / dpa)
On Friday about 1200 people protested in front of the Brandenburg Gate in Berlin against the recognition of Jerusalem as the capital of Israel. The rally near the US embassy, ​​where many Palestinian flags were waved, had gone without major disruptions, said a police spokesman. Two Israeli flags were burned during the protest.