---
This past week on December 6th, was Finland's centennial day of independence. The 612 group organizes a non-political associated march to celebrate those who gave their lives during the 1917 civil war and Soviet invasion during WWII. While the group is a mixed bunch however, of regular patriots which includes nationalists, but also ultra-nationalists as well.
Radical Leftists wanted to douse the torches somewhat of those marching in the annual event, by causing them to be steered to a different area, and then lies about it continuously afterwards. Here's the story after YLE had pimped another version over the course of a few days. They were forced to backtrack after new evidence came to light proving that they attempted to sabotage the torch event.
NOTE: The UK's BBC has yet to correct it's own bogus reporting on the incident.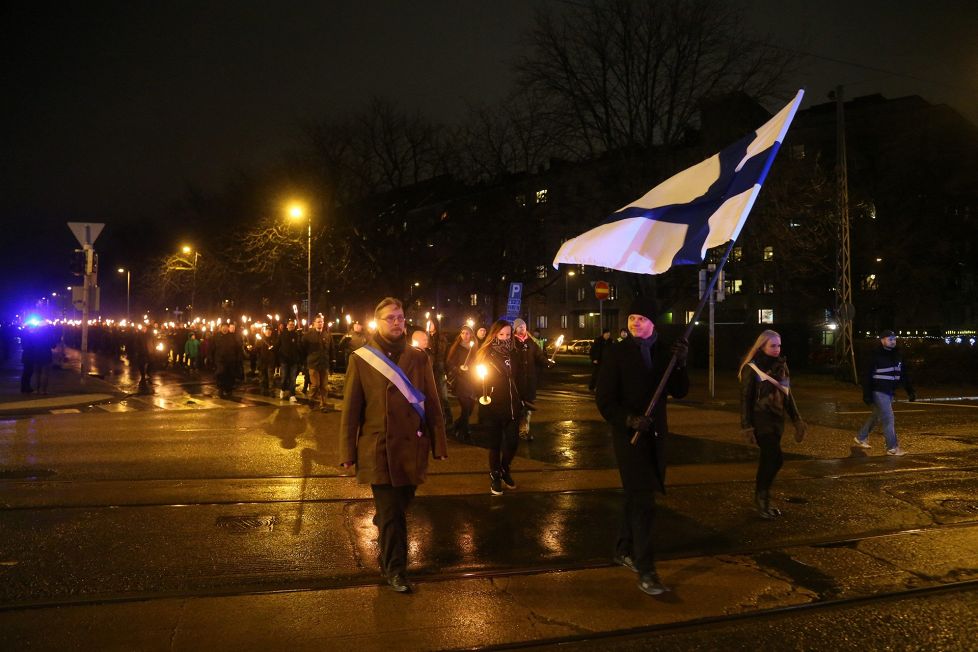 New evidence: Organiser of relocated children's event sought to disrupt nationalist march
The tables have been turned in the controversy about a Helsinki children's event that was relocated to make way for a nationalist procession on December 6. A screenshot of a Facebook post from Aleksi Pahkala, organiser of the children's event, reveals that he intentionally planned for the event to take place in Töölö, in the hopes that it would cause problems for the 612 march. 

A children's Independence Day event celebrating Finland's 100 years of independence – featuring alpacas of all things – made headlines after it was forced to give ground to a nationalist march and relocate to a football stadium. New evidence has now surfaced that one of the organisers, Aleksi Pahkala, intentionally planned for the children's event to take place at Helsinki's Töölö market square in the hope that it would, in fact, force the annual procession of the far-right 612 group to relocate or be diverted.

A screenshot of a message Pahkala posted on November 18 to a closed Facebook group has been made public.

"Personally, I have been thinking that diverting all of the attention away from the 612 and "towards freedom" (lol) demonstrations would be the best way to ignore all of the far-right business entirely. To attract the media's and everybody else's attention to something else," the post read.

"The police could steer both demonstrations somewhere completely different from where they were meant to go," Pahkala posted.

In the closed Facebook group, Pahkala also asked for help in generating ideas for a children's event, but asked that the group's members not discuss the plans publically.

"By chance, it appears that [the event] will actually take place at the same time as the 612 march, but this is no counter-demonstration – we want to bring some fun to the children of the Töölö district and alpacas for people to hug," he says.
Fellow group member was the whistleblower
A former member of the leftist group that organised the children's event, producer and deejay Heikki Eskola is the man behind the screenshot going public. He told Yle he decided to share the screenshots online after an outpouring of public sympathy for the event's forced relocation made him feel as if the reaction was generated under false pretences.
"Everyone everywhere was talking about the alpaca business, and I knew that it was founded on a lie. It became a symbol of victory, even though that's not at all what it was," he said.
Eskola says that Pahkala had asked him to remove the screenshots from his blog after they were published, but he says he refused. After the revelations, Eskola also left the closed Facebook group where Pahkala's messages had been originally posted.
"[Going public] was a hard decision to make because I knew that it would create a lot of trouble for Aleksi. But I still feel as if I made the right decision," Eskola said.
Pahkala sticks to his guns
On Saturday December 9, Pahkala posted on Facebook that he stands behind comments he made to Yle when he said that he had not planned his event as a counter-demonstration. Yle reporters were unable to reach him for further comment.
This new turn of events was first reported by the newspaper Helsingin Sanomat, and the tabloids Ilta-Sanomat and Iltalehti.
EDIT – An earlier version of this article incorrectly stated that Aleksi Pahkala had told Yle that it never crossed his mind that the children's event would clash with the torchlit procession. In fact those comments were made by another organiser of the event.