---
This is a case of wishing it were an actual account, they should hire this person. Wink wink..
Fortunately the account is a tongue-in-cheek approach in highlighting the Jew hate buffoonery slammed at Israel on a daily basis, it's a must to follow. Here in Finland we have, Keijo Kaarisade the "hate speech" cop, a parody account the mocks certain high profile actual police accounts on Twitter, with hilarious over the top tweets.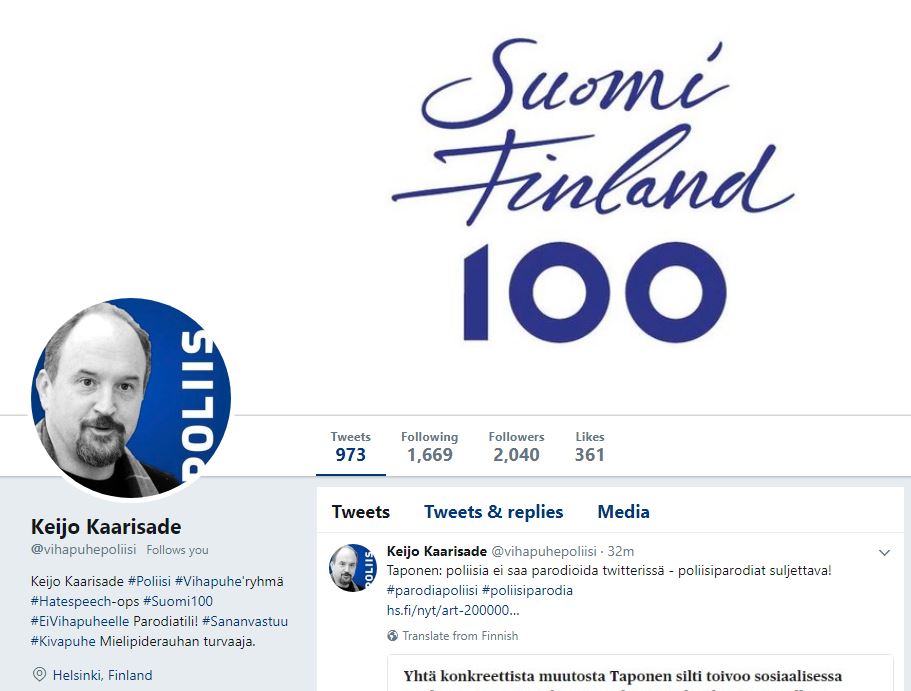 Mystery: Who runs the Mossad"Twitter account?
Tens of thousands follow the Mossad twitter account, but the Israeli intelligence organization has nothing to do with the account that paves the way for pro-Israeli messages. Prime Minister's Office: "Mossad has no Twitter account"
intelligence organization of Israel, decorates a Twitter account. Under the name "Mossad" and the Heritage 
@theMossadIL, it
 was written that "Mossad is Israel's famous intelligence organization." The account opens in 2016, the location that he mentions from which he operates is Israel and the excerpts are written in English only.
(Yesterday, after Israel Today turned to the account and asked who was running it, the only follower was replaced by the comedian Roseann Bar) .
A pro-Israeli account – but fake
The tweets in the account are pro-Israel and deal with issues that the Israeli Foreign Ministry usually deals with, such as war against boycott organizations and reference to terror organizations or attacks on Israel. However, most of the tweets are done in a trifle or amused way. Thus, for example, a video of "The Performers" was shown in a free fall and was written "Meet our new agents". In another case, a few tweets were written with the logo "Israel loves Beirut," the Lebanese capital, and a week later Saad Hariri, the Lebanese prime minister fled to Saudi Arabia.
While browsing the account, Twitter offers to join and follow other similar accounts, as is customary, when familiar and approved sites are offered by the Israeli Air Force and more. But the account does not have the blue check mark (V) that indicates that it is a site that really belongs to the organization that is displayed in it.
The Prime Minister's Office, which responds to the media on behalf of the Mossad, said that the 
Mossad does not have a Twitter account
 . The office did not answer additional questions, whether it is known who operates the account with the prestigious and familiar name and did not clarify whether an attempt was made to contact the operator or Twitter in order to stop the impostor.
[…]