---
What, we're supposed to swallow the Finnish version of SNOPES, or the SPLC and every other leftist sourced organization to "help us get our minds right"…
As a long time blogger and purveyor of the news, I do not need a special run police unit to "help me sniff out bad source material", I'll do that myself thank you very much. The very idea that the police are involved in disseminating news, lends credence to the charge that they're increasingly becoming more political.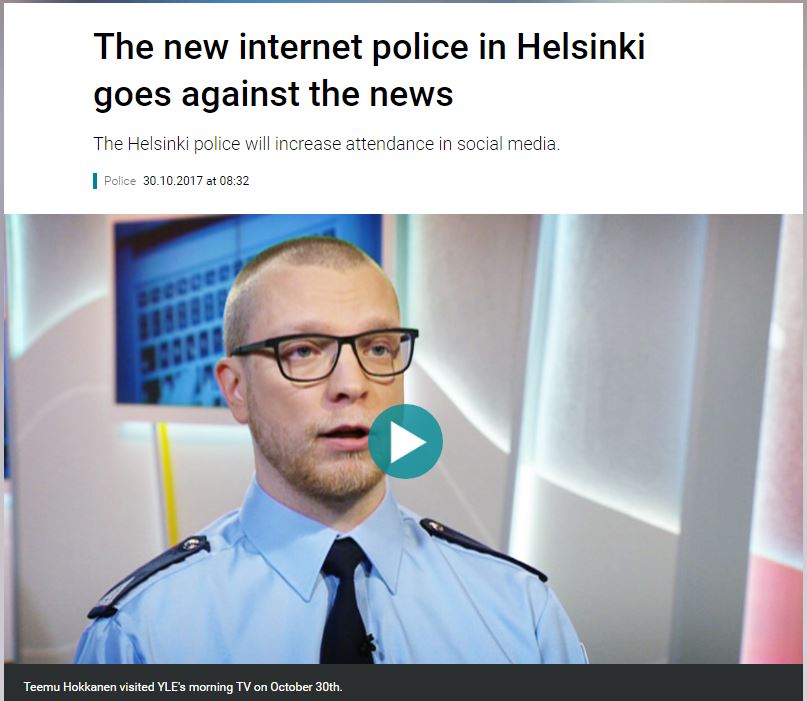 The police will be more energetic in the social media media on the Internet, in the face of fakenews attacks. The new police officer of the Helsinki police, senior officer Teemu Hokkanen told YLE on morning TV that his work was partially the same as a traditional police officer but was on the Internet.
According to Hokkanen, a new part of the online police work in police language, is operational information .
"When something happens that could be of interest to the public or the media, they will be informed as soon as possible, Hokkanen told.
In addition to his announcement, his work includes rumors of rumors and the rejection of false news.
– Often, they (fake news) rotate in their small bubbles and do not affect the larger crowd. We are more interested in those who could indirectly threaten the public order and security of the real world, Hokkanen said.
NOTE: Proof of their sincerity will be setting up a permanent observation post to watch and read what these hacks dressed as journalists pump out on a regular basis.