---
Explosives experts say the Parsons Green bomb could have killed dozens if it had properly detonated at rush-hour this morning. Anti-terror police are now examining the bucket bomb which failed to fully go off on a tube train in west London.
Photos of the explosive show a Lidl coolbag with a large builder's tub inside and a string of Christmas tree lights hanging over the top. Officers compared the device to those use in the failed 21/7 bombings, in which jihadis attempted to blow up tube trains but failed to detonate their bombs.
In that case, the bombs' detonators went off but the explosives themselves were not ignited.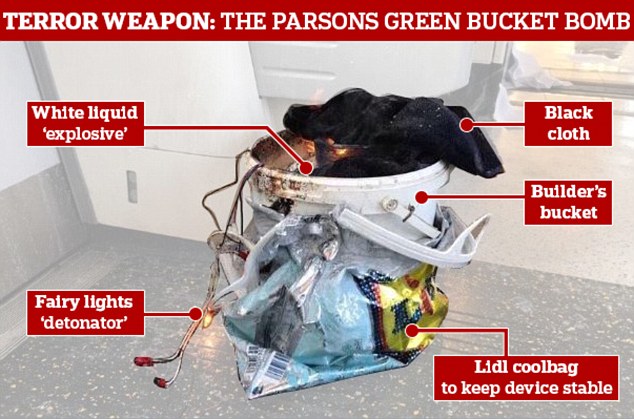 Witness Sylvain Pennec said: 'It looked like a bucket of mayonnaise. I'm not sure if it was a chemical reaction or something else, but it looked home made.' Terrorists have attempted to use Christmas tree lights as detonators to bombs before, although experts  say this device was 'very crude'.
Major General Chip Chapman told Sky News: 'This doesn't look like a high-end explosive from ISIS such as TATP (triacetone triperoxide) or, if it was, it failed significantly, the booster or detonator didn't go off.'