---
Stalinist….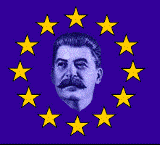 Nirvana has been reached, no dissent is acceptable. By his own thinking, Blacks in the US segregated (Democrat) South should never have been able to speak against immoral judicial rulings against them, since they were enacted by "A majority of Parliament which decides what the law is". The statist mindset is easy to spot and to debunk. What a Häk….
Crime and punishment
The new Justice Minister, Antti Häkkänen, has told the media that he is concerned by the rise in criminal convictions of active politicians. In practice, the criticism in his interview with the Finnish News Agency STT, carried by dailies including Savon Sanomat, was directed at the Finns Party. Finns Party MP Teuvo Hakkarainen, MEP Jussi Halla-aho and a number of municipal council members have been convicted of incitement to ethnic or racial hatred and in some cases of breaches of the sanctity of religion.
Häkkänen told STT that in his opinion there is no justification for civil disobedience in a country like Finland.
"All parallel justice systems which adhere to personal desires, morals, religion and considerations of human rights policies should be put aside in a constitutional, rule of law country such as Finland," he stated. "A majority of Parliament decides what the law is. That should be followed. And, say, those MPs which have been convicted should accept the decisions of the courts without a murmur and respect the doctrine of the division of powers."
Häkkänen views on civil disobedience have come in for criticism in the past. For example, Political Science Professor Marja Keränen of the University of Jyväskylä criticized Häkkänen's stand in an interview with Uutissuomalainen, arguing that civil disobedience has had a critical impact on social reform in Finland and is a feature of its strong tradition as a civil society.