---
So now there's information that he was the attacker, the other man pictured yesterday is denying any role in the attack.
The question remains as to how a 2nd bomb remained unexploded, let alone damaged in his suicide attack. This is not the final word, there still might be another prep involved at the scene, let alone those who put these devices together. The other bomb was a fire extinguisher packed with ball bearings, in the CCTV photos, this guy was just carrying a backpack while clenching his fists. There were more jihadis involved.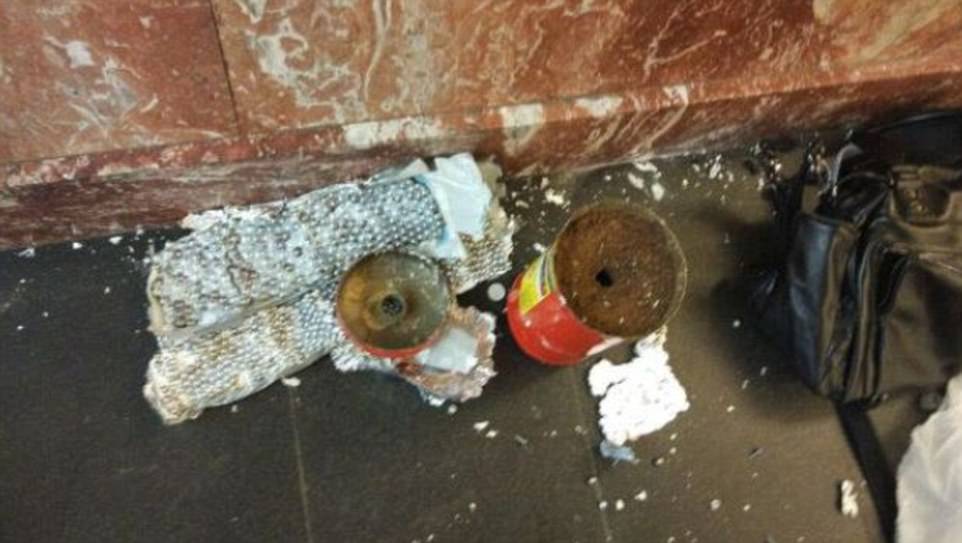 Carriage of carnage: Pictures emerge from INSIDE the train where a nail bomb killed 11 in St Petersburg metro attack as police issue CCTV of 'suicide bomber who also planted a second device that was defused'
The horrifying pictures show bodies, blood wreckage and debris strewn across the carriage of the train, which was hit by the blast while travelling between Sennaya Ploshchad and Sadovaya metro stations.
Police in Russia now believe a suicide bomber, who has close links to radical Islamists was behind the attack. He was described as being a 22-year-old from Kazakhstan and a CCTV image (inset) has been released of the suspect.
The image shows a man in a red Parka jacket, wearing glasses and a green beanie hat and carrying a rucksack on his back. Despite initially issuing search warrants for two suspected terrorists, authorities believe the suspected suicide bomber was behind the attack and also have intelligence to suggest he planted a second explosive device – disguised as a fire extinguisher – which was found and defused at a nearby station.
This guy says he's innocent:
Tonight, it has emerged that the bearded man who was identified on CCTV as the main suspect, handed himself in to police and insists he is innocent. Detectives are putting the man through a lie detector test.
Tonight, it has emerged that the bearded man, who was initially identified on CCTV as the main suspect, handed himself in to police and insists he is innocent