A court sketch of 'Carlos the Jackal' at the opening of an appeal trial in Paris in 2013. Photo: Benoit Peyrucq/AFP
---
No statute of limitations on murder…….
Wikipedia: In 2001, after converting to Islam,[38] Ramírez Sánchez married his lawyer, Isabelle Coutant-Peyre, in a Muslim ceremony, although he was still married to his second wife.[39] 

In June, 2003, Carlos published a collection of writings from his jail cell. The book, whose title translates as Revolutionary Islam, seeks to explain and defend violence in terms of class conflict. In the book, he voices support for Osama bin Laden and his attacks on the United States.
Interesting that the notorious George Galloway looks like he stood in for the artist's sketch of the Jackal.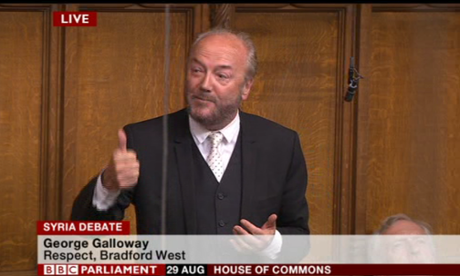 Carlos the Jackal faces trial again in France
Carlos the Jackal, the perpetrator of headline-grabbing attacks in the 1970s and early 1980s, goes on trial in France on Monday for the deadly bombing of a Paris shop more than 40 years ago.
With attention in France now focused on the ever-present threat of jihadist attack, the trial in Paris will reach back to a time when Europe was repeatedly targeted by ruthless groups sympathetic to the Palestinian cause.
Carlos, 67, a Venezuelan whose real name is Ilyich Ramirez Sanchez, describes himself as a "professional revolutionary" and was dubbed "Carlos the Jackal" by the press when he was one of the world's most wanted terror suspects.
The nickname came from a fictional terrorist in the 1971 Frederick Forsyth novel, "The Day of the Jackal", which was turned into a popular film.