---
The Swedish government's lame excuse peddled by The Local: "We did not invite him"…….
But they allowed him to travel to Sweden nonetheless. Here is former (fraud conservative) Swedish PM, Carl Bildt bloviating on about the need to allow Turk officials to campaign in Sweden to the fifth column: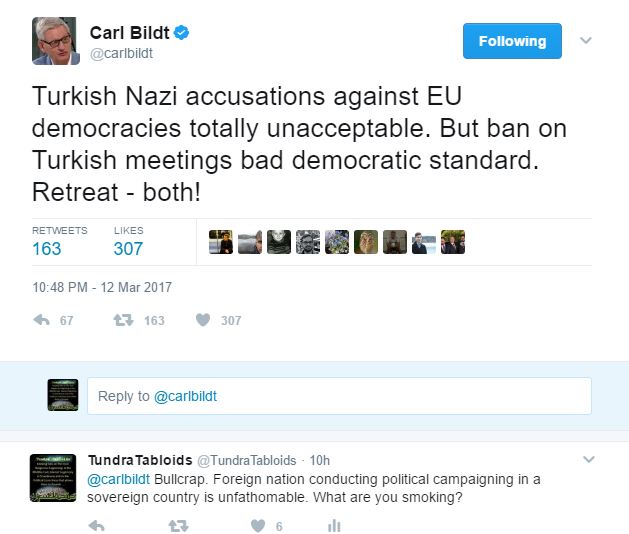 Why Sweden did NOT block Turkish visit
Mehmet Mehdi Eker speaking in Stockholm. Photo: Claudio Bresciani/TT
Sweden's minister of culture and democracy stressed that a senior Turkish politician campaigning in Stockholm had not been invited by the government, but said there had been no plan to prevent his visit.
Alice Bah Kunhke was asked about AKP international secretary Mehmet Mehdi Eker's controversial election tour in Sweden, which came amid souring Turkish-EU relations after senior ministers were blocked from campaigning in several countries including the Netherlands and Germany.
The rallies are part of AKP's attempt to garner support from Turks abroad for a referendum on April 16th which would give increased power to already controversial president Recep Tayyip Erdogan.
"He came here of his own accord," Bah Kunhke told public broadcaster SVT about Eker's visit.
"He is not invited by the Swedish government and he's not meeting anyone from the government during his visit. He is exercising his freedom of speech and right to assembly," said the minister.
She said there had not been any discussions about preventing Eker's visit to Sweden: "We do not issue travel bans against people. On the contrary, he is exercising his right to travel, but we have not invited him."