---
Personally speaking, if the cop is guilty of the brutal deed, let justice take its due course…..
The miscreants and malcontents in the streets however, will never be satisfied with any real justice, a collection of Leftists, Muslims and other thugs will use any situation as a means to trash their society.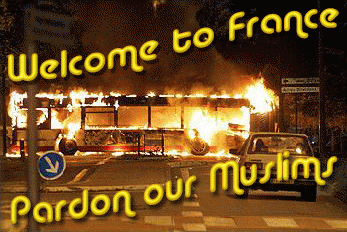 Eleven arrested as tensions flare again in Paris suburbs

Eleven people were arrested on Sunday night as unrest continued to sweep through the Paris suburbs.

Sunday night saw more scenes of tensions in the Paris suburbs, this time in Argenteuil to the north west of the city.

Eleven people were arrested after around 50 people staged violent protests, which were reportedly organized via social media.

The protestors torched a van (see picture below), set fire to several bins, destroyed bus stops, and vandalized a bus.

The driver of the bus was left with injuries to his face.

The protestors also threw projectiles at police officers, although no injuries were reported.