---
It wasn't the most accurate statement, because there's lots of Leftist terrorists out there and a smattering of others, but the majority of terrorists are in fact Muslim.
By the way, I like this poll taken at the British paper Express.co.uk: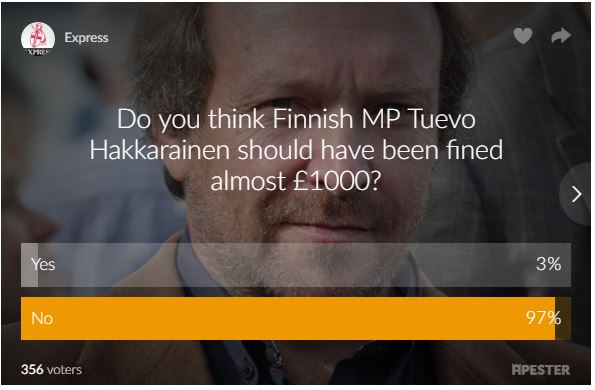 Eurosceptic politician fined for Facebook post claiming 'all terrorists are Muslims'
A EUROSCEPTIC European politician has been fined after making a comment on his Facebook page following the Nice terror attack that "all terrorists are Muslims".
Shortly after the horrific attack on July 14, last year, Teuvo Hakkarainen, a Finnish MP who is notorious for his anti-Muslim and anti-immigration comments, was fined almost £1,000 (€1160) after he published an article in relation to the terrorist attacker Mohamed Lahouaiej-Bouhlel and made the comment which violated the Finnish law of "ethnic agitation".
Within his Facebook post, Mr Hakkarainen said: "All Muslims are not terrorists, but all terrorists are Muslims."
A member of the populist and eurosceptic Finns Party, Mr Hakkarainen said he was completely unaware of the law – which was implemented in 2011 – but he accepted the verdict and the fine.