Meet the Democrat's front runner for the chairmanship of the party…….
Keith Ellison's Saudi Arabia Trip Included Meetings With Radical Cleric, Bank That Funds Suicide Bombings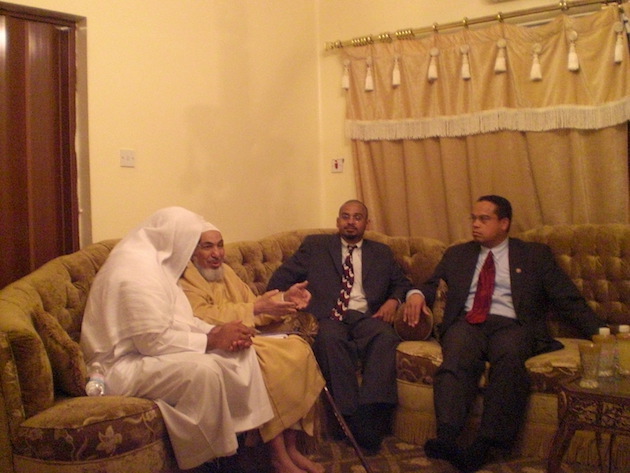 Keith Ellison with Sheikh Abdallah Bin Bayyah
Trip was funded by Muslim Brotherhood-tied organization
BY: Brent Scher Follow @brentscher

Rep. Keith Ellison (D., Minn.) during a 2008 trip to Saudi Arabia met with a radical Muslim cleric who endorsed killing U.S. soldiers and with the president of a bank used to pay the families of Palestinian suicide bombers.
Ellison, now a leading candidate to head the Democratic National Committee, was brought to Saudi Arabia for a two-week trip by the Muslim American Society (MAS), a group founded by members of the Muslim Brotherhood to act as its "overt arm" in the United States.
Details of Ellison's religious pilgrimage to Saudi Arabia are scarce, but photographs discovered by the Washington Free Beacon show that Ellison met with controversial figures during the trip.
A photo album of Ellison's hajj trip posted by MAS's Minnesota chapter includes a picture of the congressman meeting with Sheikh Abdallah Bin Bayyah, who was vice president of a Muslim Brotherhood-created group that in 2004 issued a fatwa urging "jihad" against U.S. troops in Iraq and supported the Palestinians' Second Intifada against Israel.
"The Jihad-waging Iraqi people's resistance to the foreign occupation … is a Shari'a duty incumbent upon anyone belonging to the Muslim nation," the fatwa said, according to a translation by the