The former minister of finance Alexander Stubb was jubilant over the fact that Finnish sovereignty can never be reacheived.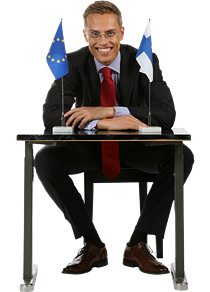 They have already cemented their tyranny into the Finnish constitution, which reads btw, like a top-down, patronizing list of handouts by an over generous aristocracy.
Parliament's constitutional law committee has ruled that a citizens' initiative to hold a referendum on Finnish membership of the single European currency will not proceed to consideration by MPs.
The committee said that a referendum on this topic would herald far-reaching international implications, and the initiative itself was poorly prepared.
"This was considered for a long time and we decided on this solution, as it is an international obligation that requires an initiative contains considered justifications and proper preparations," said Annika Lapintie, the Left Alliance MP who chairs the committee.
"This initiative contained a lot of internal contradictions," said Lapintie.
The committee also ruled that a citizens initiative can only concern matters under parliament's purview—not policies related to international treaties and obligations. The committee's decision was unanimous.
The initiative had been instigated by Paavo Väyrynen, a veteran Eurosceptic Centre Party MEP who had in 1994 filibustered a parliamentary debate to try and delay Finland's referendum on EU membership. It gathered 53,425 signatures, just surpassing the 50,000 signature threshold for consideration by the committee.