The verdict is pre-determined so why fight it in person?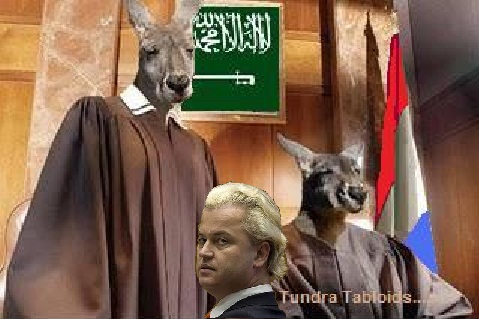 This is the reason Jussi Hala-aho did not fight the court case against him, it was all pre-determined, so why waste money on a lawyer?
Finnish blogger Ibn Matti has the transcript in Finnish as well. H/T: Vasarahammer
Ibn Matti: Geert Wilders: Alankomaat ei ole vapaa maa vaan diktatuuri
Kukaan ei vaienna minua
Ensi maanantaina alkaa oikeudenkäynti sananvapautta vastaan.
Sellaista poliitikkoa vastaan, joka sanoo asioita, joita poliittisesti korrekti eliitti ei halua kuulla.
On pelkkää ilveilyä, että joudun oikeuden eteen puhuttuani pienemmästä määrästä marokkolaisia.
On sekä oikeuteni että velvollisuuteni poliitikkona puhua maamme ongelmista.
Sillä Alankomailla on valtavia ongelmia marokkolaisista.
Marokkolaiset ovat yliedustettuina rikoksissa ja sosiaalitukien käytössä.
Enemmän kuin kolme neljäsosaa hollantilaisista jihadisteista Syyriassa on marokkolaisia.
En siis sanonut mitään väärää.
Miljoonat alankomaalaiset (43% väestöstä) haluavat vähemmän marokkolaisia.
Ei siksi, että he inhoaisivat marokkolaisia tai haluaisivat karkottaa marokkolaiset maasta, vaan siksi, että he ovat kyllästyneitä niin monien marokkolaisten aiheuttamiin häiriöihin ja terroriin.
Aivan samoin kuin minä.
Jos tästä asiasta puhuminen on rangaistava teko, ei Alankomaat ole enää vapaa maa.
Vaan diktatuuri.
Tämä oikeudenkäynti on poliittinen, ja kieltäydyn osallistumasta siihen. Poliittisista lausunnoista tulee keskustella parlamentissa eikä oikeudessa. Sitten on vielä kaksinaismoralismi. Pääministeri Rutte sanoi, että turkkilaisten pitäisi häipyä. Labour-puolueen johtaja Samson sanoi, että marokkolaisella nuorisolla on monopoli etnisissä selkkauksissa. Labourin puheenjohtaja Spekman sanoi, että marokkolaisia pitäisi nöyryyttää. Labourin kunnanvaltuutettu Oudkerk puhui suorastaan v*tun marokkolaisista. Heidän sallitaan puhua näin eikä heitä aseteta syytteeseen. Ja se on oikein. Mutta minut halutaan vaientaa lakiteitse.
Alankomaat kuuluu meille.
Tämä on meidän maamme eikä minua vaienneta.
Kenenkään toimesta.
Ei niiden muslimiterroristien toimesta, jotka ovat uhkailleet minua jo kaksitoista vuotta.
Ei niiden poliittisten vastustajien toimesta, jotka mustamaalaavat minua.
Eikä julkisen syyttäjän tai oikeuslaitoksen toimesta.
Tulen aina ilmaisemaan mielipiteeni – miljoonien hollantilaisten puolesta – huolimatta seurauksista. Kukaan ei pysäytä minua.
Sillä me hollantilaiset olemme vapaita ja pelottomia eikä meitä milloinkaan vaienneta. Ei milloinkaan.
Tästä syystä olen päättänyt olla osallistumatta tähän poliittiseen oikeudenkäyntiin.
Jatkan poliittista keskustelua siellä minne poliittinen keskustelu kuuluu: parlamentissamme. En oikeussalissa. Luotan asiani oikeudellisen puolen Alankomaiden parhaan asianajajan herra Knoopsin haltuun. Hän puolustaa minua ensi maanantaina ja kaikkina istuntopäivinä. Toivotan hänelle menestystä.
Ja minä jatkan työskentelyä. Äänestäjieni ja Alankomaiden puolesta. Meidän maamme puolesta.