I agree with Ronald Reagan, there is no Left or Right in politics, but only up or down, Merkel represents the down.
You and I are told increasingly we have to choose between a left or right. Well I'd like to suggest there is no such thing as a left or right. There's only an up or down: [up] man's old — old-aged dream, the ultimate in individual freedom consistent with law and order, or down to the ant heap of totalitarianism.
Courtesy of Gates of Vienna:
Angela Merkel: We Must Crush the Right Wing in the East!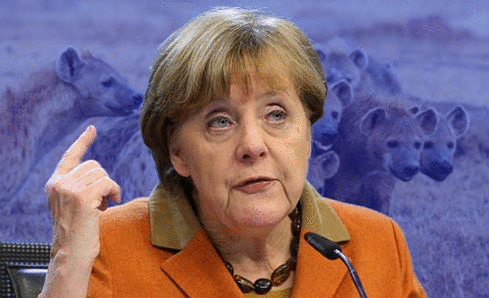 German Chancellor Angela Merkel took the opportunity of German Unity Day in Dresden to remind citizens of the importance of suppressing right-wing tendencies, especially in the east — the former DDR.
Many thanks to Ava Lon for translating this article from the Rheinische Post:
Bürgerfest for German unity

Merkel calls on citizens to rise against the right wing

Dresden. While on 26th anniversary of German unification Chancellor Angela Merkel has called for opposing right-wing populists, the celebrations have started in Dresden with a street festival. Three quarters of a million visitors are expected by Monday. It has prompted the highest level of security for the police.

Given the increasing polarization of society, Federal President Stanislaw Tillich (CDU) urged further efforts to realize internal unity. That people lived in the East and West for over forty years in two different systems is now strongly felt as hasn't been during the period since 1990, said the Saxon Prime Minister to the German Press Agency.

"We are celebrating something that is not self-evident in the story: A peaceful revolution that ended in the reunification of the nation," said Tillich. This is at the same time a reminder "to continue to work on our internal unity".

Dresden Mayor Dirk Hilbert (FDP) stressed that his city with its historic center would not only provide a stage for a look at history. "Also the present and future of our region become clear in these days," he said at the opening of the festival.

Merkel: All are the people

Meanwhile, at the 26th anniversary of German unification the Chancellor called for the defense of the central freedom of the East German civil rights movement against right-wing populists. One must intervene when people with a right-wing background proclaim "We are the people" [Wir sind das Volk], said Merkel on Saturday in a video message. This slogan was "very liberating" during the peaceful revolution in the GDR.

"Today we have a different situation: Today, we have an system, in which everyone has the right to freely speak his mind and to demonstrate. And that's why we have to say: 'All are the people'," said Merkel. Today, the slogan is being used by the people who believe they have gotten a raw deal, but also by those with a right-wing background — "which of course I don't find all right, and against which we must also intervene."