To prove that their god 'allah' is greater (allahu akbar)….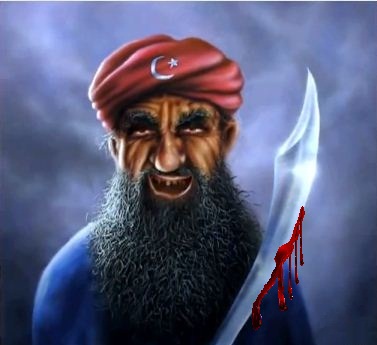 Sowing fear into the hearts of the weak-in-the-knees EU leadership. This has all been warned about by many, including Nigel Farage in the fake EU parliament with MEP members sneering while he spoke.
ISIS sends new wave of jihadis on 'missions' to attack Europe: Fake passports used to sneak in from Syria 
ISIS is accused of distributing fake passports in Greek refugee camps to terrorists, file photo
ISIS has taken 'strategic decision' to send fighters to Europe for attacks
Spectacular attacks help to 'boost morale' for those in Syria
Fake passports given out as radicalisation attempts made at refugee camp
Britain has been warned of a rising threat of terror from Islamic State fighters after it was revealed more and more are using fake passports to enter the country.
Earlier this week it was revealed that ISIS has been distributing fake passports in Greek refugee camps to allow its terrorists to travel within Europe on 'clean' identity documents.
Now, Europol's director Rob Wainwright has told the Evening Standard the terror group has taken a 'strategic decision' to send fanatics to attack the continent, in the hope of distracting attention from the fighting on its own soil.
It is feared ISIS terrorists are hiding among genuine refugees who made the perilous trip. File photo
Mr Wainwright said that some ISIS fighters were posing as refugees but that this was a small number.
Some have used fake Syrian IDs to travel through Greece before entering Europe, with two of the fighters behind the Paris attacks in November back on the continent.
There have been reports that ISIS leaders are attempting to radicalise the migrants at refugee camps in Greece and the Balkans.
The Europol director warned there could be more Paris-style 'spectacular attacks', with more than 50 counter-terror investigations under way across the continent at the moment.