That same meme had been trotted out in times past and is as bogus now as it was then.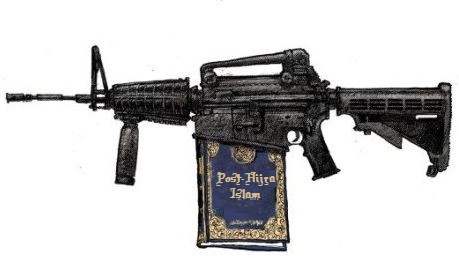 Some have suggested that a rise in suicide attacks is a sign of the group's desperation and weakness. In fact, it demonstrates its strength and long-term survival skills.
Before Fayad Tayih abandoned Islamic State of Iraq and Syria (ISIS) earlier this month, he detected a striking trend: more people inside the self-declared caliphate were signing up to become suicide bombers. Tayih had been working in an administrative job for the jihadist group in Deir al-Zour, in eastern Syria, at the time. 'Those who were working with me noticed the same thing,' he told me over Wickr, an encrypted messaging app.
Statistics released by ISIS confirm his observations. According to monthly updates from Amaq, the group's official news outlet, ISIS was carrying out 50 to 60 suicide attacks per month in Iraq and Syria last November. Today the number of such attacks is 80 to 100 per month, an average of two to three operations a day. The trend peaked in March, with 112 members blowing themselves up in Syria and Iraq.
ISIS is shifting tactics, and not just on the battlefields of Syria and Iraq. The group is reverting to insurgency tactics it relied on before June 2014, when it took over Iraq's second-largest city, Mosul, and declared the formation of a caliphate. This operational change has been on plain display in recent weeks: hundreds of civilians were killed in a spate of suicide attacks attributed to ISIS in Turkey, Iraq, Bangladesh and Saudi Arabia. In Baghdad last week, more than 280 civilians were killed when a car bomb exploded outside a shopping mall.
Some people have suggested that this is a sign of the group's desperation and weakness. In fact, it demonstrates its strength and long-term survival skills. ISIS has known for years that it would suffer setbacks and have to find ways to adapt. In 'The Management of Savagery',(opens in new window) a foundational text for the ISIS ideology and strategy published in 2004, the author pointed out that in the 12th century, Muslims defeated the Crusaders with 'small bands' and 'separate, disparate organizations'. The group has not forgotten that message.
When ISIS leaders declared the formation of a caliphate, they opened a new phase in global jihadism. The promise of living in an Islamist utopia reportedly attracted new members from some 90 countries. In interviews, ISIS members have told me that they joined because of the group's military victories, its puritanical governance and its clear ideology.