It's why they're called "elitists", they really don't give any consideration for discontent, it's all about the centralization of concentrated power, their agenda.
Get out now! Furious EU leaders demand Britain makes quick exit from Europe after claiming the Tory party feud held 'a whole continent hostage'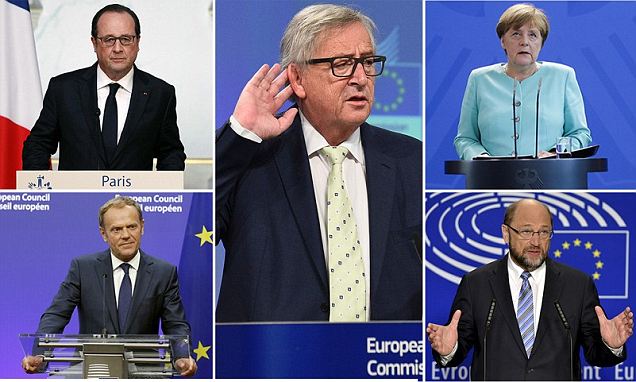 French President Francois Hollande (top left) said the Brexit vote must act as a 'jolt' to the bloc to implement the change needed to address its troubles – adding he was 'sad' to see Britain sever relations. German Chancellor Angela Merkel (top right) expressed 'great regret' at the UK's decision to leave the European Union and said the EU must never forget that the foundation of European unity was the 'idea of peace'. On Monday, the two leaders will meet to discuss the vote with European Council leader Donald Tusk (bottom left), who earlier insisted: 'what doesn't kill you makes you stronger'. European Commission President Jean-Claude Juncker (centre) said Britain's decision to leave the EU was not the beginning of the end for the EU.