Alternative headline: If the U.S. and Europe wouldn't tie our hands, we would have defeated the islamonazis ages ago.
IDF Intelligence Chief: If our Enemies Knew What We Can Do They'd Give Up
By: JNi.Media
Published: June 15th, 2016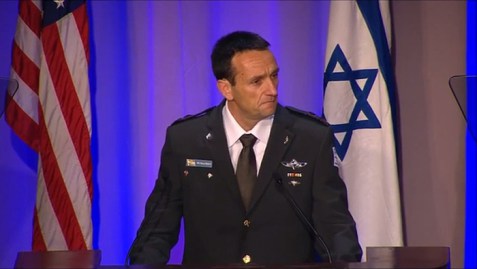 Major General Herzl Halevi, head of Military Intelligence
Photo Credit: FIDF YouTube screenshot / https://www.youtube.com/watch?v=VkvP3ljrPoc
At a session headlined "Israel in a Turbulent Middle East: Strategic Review & Intelligence Assessment" held Wednesday at the 2016 Herzliya Conference, Maj. Gen. Herzl (Herzi) Halevi, Chief of the IDF Military Intelligence Directorate warned Israel's opponents against initiating a conflict, saying, "I am sure that had Nasrallah or any of our enemies known our military capabilities they wouldn't risk additional conflict."
Halevi discussed Israel's challenges and opportunities in today's middle east, saying "there are a lot of people who live in the Middle East with no electricity. Looking at the GDP per capita or unemployment rates it is noticeable that very big gaps have formed between us and our neighbors. It should not make us happy – A poor Middle East is a hotbed for terrorist organizations."
"The Game board in the Middle East has changed," he added. "Instead of few states, there are now many players. The transition from nation states to organizations is very significant. There are no good and bad guys, and players on the field change their identities."
Halevi continued to discuss the new ways in which conflicts and wars are formed in the Middle East, in what he calls Dynamics of Escalation'. "We live in an era in which it is most likely for wars to begin even though neither side is interested in it," he explained.