I would love to see it go 'pfffffffffffft' straight out of the harbor along with every other fraudugee.
NOTE: Snaphanen informs me that the port city of Elsinore is the pic in question.
'Inflatable refugee' visits Copenhagen on a mission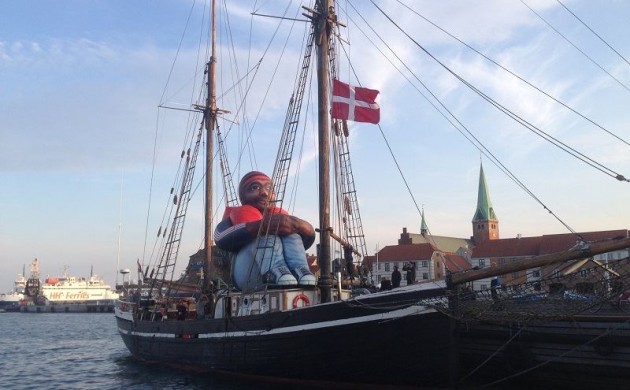 The 'Inflatable Refugee' is scheduled to arrive in Copenhagen on Monday afternoon. Photo: Schellekens & Peleman
Published: 23 May 2016 10:47 GMT+02:00
If you see a massive human sitting on a boat in the Copenhagen harbour on Monday, you're not imagining things. Not have giants overtaken the Danish capital.
The strange site is instead the latest work from Belgian visual artists Schellekens & Peleman.
Entitled "Inflatable Refugee", the 6-metre high blow-up is a "symbol of the dehumanization of the refugee and the current refugee crisis happening in the world" according to a press release.
The floating political statement will sail from Helsingør to Copenhagen aboard the Hawila, a 25.5m long refurbished wooden galeas that was built in Norway in 1935.
It is scheduled to arrive in the capital around 3pm on Monday.