All depends upon who is having the babies, ethnic Norwegians or the "new Vikings"……
Norway sees immigration numbers drop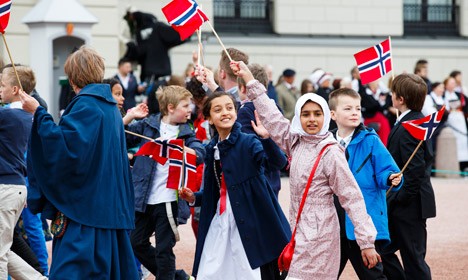 Published: 12 May 2016 17:03 GMT+02:00
Norway's population increased by 9,300 people in the first quarter bringing the official number of registered inhabitants of the Nordic nation up to 5,223,300.
Norway 'best in Scandinavia' at integration: report (07 Apr 16)Norwegian fertility rate at historic low (23 Feb 16)
Through the first three months of this year, 14,333 children were born while 11,022 people died. That gave Norway a birth surplus of 3,511 people, a figure that is almost 1,000 more than the same quarter last year, according to Statistics Norway. 
Immigration, on the other hand, was down roughly 17 percent from the first quarter of 2015. Some 14,496 people were registered as immigrating to Norway in this year's first quarter, while 8,736 people moved out of the country. The immigration number for the same period last year was 16,926. 
The number of migrant workers has decreased, while there was an uptick in residents with a refugee background. Net immigration of people from Poland and Lithuania was down significantly. 
There are still many who immigrate to Norway from countries in Europe, but there are also many from  these same countries emigrate. Meanwhile, there was a large net immigration from Syria, Eritrea, Afghanistan and Somalia.