And Germany's Schmerkel continues to do the deep knee-bend to him……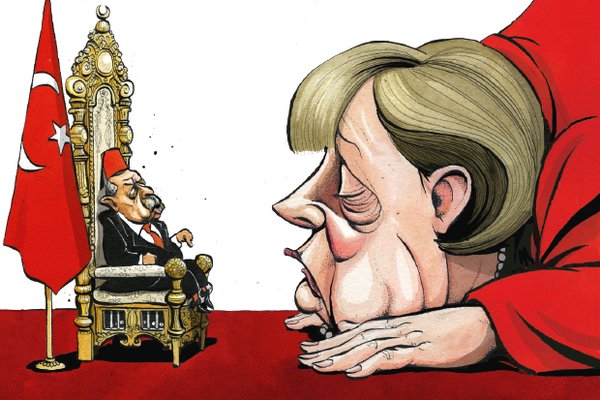 Turkey's Erdogan pours cold water on hopes of progress on EU deal
Turkish President Tayyip Erdogan on Saturday poured more cold water on hopes for progress with Europe on a deal to curb migration, suggesting Ankara would not change its anti-terrorism laws just to meet European Union requirements.
The EU has asked member states to grant visa-free travel to Turks in return for Ankara stopping migrants from reaching Europe, but said Turkey still had to change some legislation, including bringing its terrorism laws in line with EU standards.
The migrant deal between Brussels and Ankara was negotiated by Prime Minister Ahmet Davutoglu, who this week announced his decision to step down as premier, capping weeks of public tension with Erdogan.
"Those who ask Turkey to change its laws on terror should first remove the terrorists' tents that were erected outside the EU parliament," Erdogan said in a speech to supporters in the eastern Anatolian city of Matalya.