What's wrong with staff at TOI? You've got to be kidding me, just a "pizzeria owner"?
That's the best TOI could do with this story, that the man was just a pizzeria owner? So are we to assume that the Times of Israel is saying that we should be aware of "pizzeria owners" recruiting for the Islamic State, instead of just stating the obvious….Islamonazis?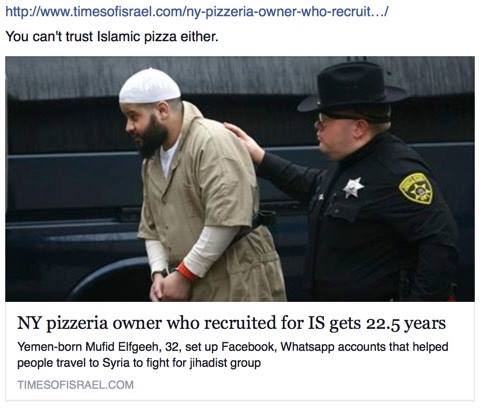 H/T: Brian of London:
"Because his ownership of a pizzeria is really pertinent to the story and goes some way to explain his motivation for the crime. Clearly there's no other trait about this man that might have led him to try to recruit people to fight for ISLAMIC State. Nothing. Best stick pizzeria in the title."
NOTE: Well let's do that, but in a more honest way!