Shiite heznazis seeking to recruit sunni islamonazis.
When it's all said and done, they all lift the same arm to the koran in their eternal war against Jews and the rest of humanity.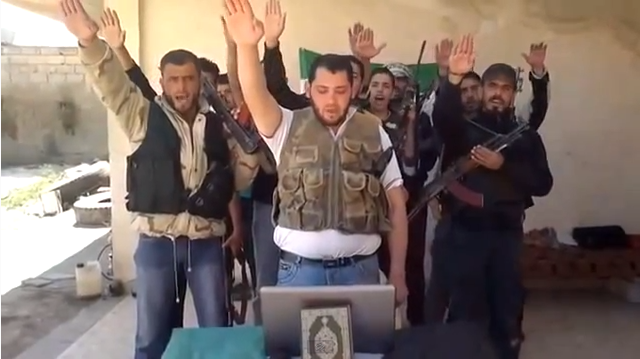 Report: Iranian Proxy Hezbollah Actively Recruiting Palestinian Operatives in West Bank
A Saudi press report revealed the identity of the figure behind attempts to recruit Palestinians in the West Bank to the ranks of Hezbollah, Israeli news site nrg reported on Sunday.
Citing Palestinian sources, Saudi daily Okaz said that Qais Obaid, a former Mossad agent who became a Hezbollah operative in Lebanon, has been instrumental in recruiting members of Fatah's Al-Aqsa Martyrs' Brigades to carry out terrorist attacks against Israelis on behalf of the Iran-backed terrorist organization.
In 2000, Obaid organized the kidnapping of Elhanan Tanenbaum, a shady Israeli businessman, who was held for more than three years and released in January 2004 as part of a prisoner swap with Hezbollah. Tannenbaum was released along with the bodies of three soldiers killed during an ambush along the Israeli-Lebanese border in exchange for 435 prisoners held by Israel.
According to the report, "The Lebanese Hezbollah organization has renewed its attempts to recruit Palestinian youths in the West Bank to carry out attacks against Israeli targets in the [West] Bank and inside Israel."
Okaz also said that Israel is aware of the situation and wasn't surprised by Hezbollah's recruitment attempts. The Jewish State has been preparing for possible shooting attacks against Israelis, or even the launching of rockets into Israel from the West Bank, by operatives acting at the behest of Hezbollah.