It's why Finns MP Olli Immonen (IMHO) chose to write his FB piece in English "TO AVOID this kind of shabby reporting. To nip in the bud domestic hucksters sending out skewed "press releases" to the non-Finnish speaking world."
H/T: Vasara Hammer
The EU Reporter: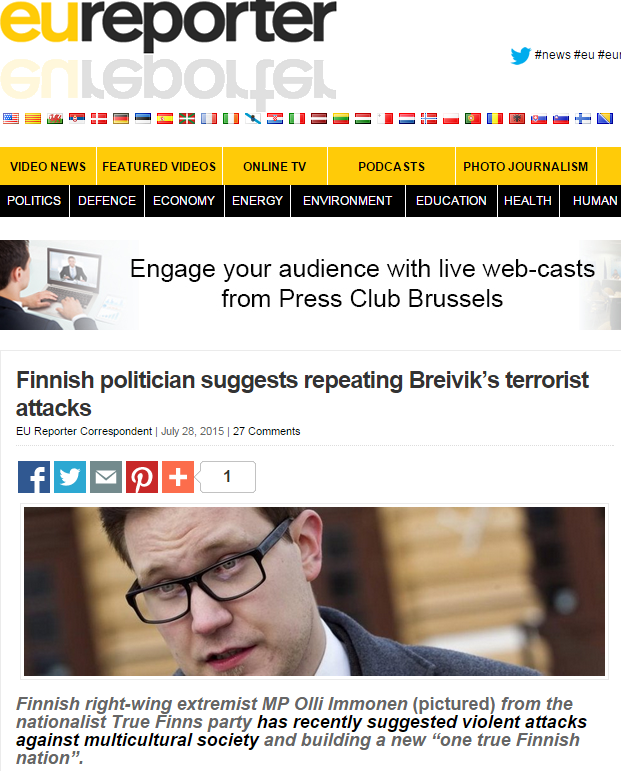 He dated his Facebook statement on the anniversary of Breivik's terrorist attacks. Immonen also appeared in public as a perfect copy of Breivik. The statement caused a huge scandal – a demonstration of tens of thousands of people will be held in Helsinki today (28 July) against Immonen and True Finns. Immonen's provocation may lead to the breakdown of the True Finns party or their demotion to opposition. EUReporter
It has now been removed from the website
The ace editor, James Drew ·Production Editor at EU Reporter in the comment section now unavailable:
If you have an excellent quality translation available to you, why not post it here, as I have done with the FT article, then everyone can make their minds up armed with all the facts?
You tried to link to the post, but didn't, because it is "almost certainly taken down by now" and "not sure how much use it would be to you in Finnish"? 
It is still there and it was originally posted in English.
https://www.facebook.com/pages/Olli-Immonen/334608399882600?fref=ts
Juhani Huopainen
·
1) did not suggest violent attacks
2) not on anniversary
3) did not appear as a Breivik-copy – someone said he has beard and thus looks a bit like him
4) the demonstration was against racism, not against Immonen or the Finns-party.
5) party's breakdown or opposition is pure speculation and a bit strong statement.
6) Opposing multiculturalism (no inclusion, instead assimilation) is in the party's political program.
7) The FT did not write what James Drew implies.
8) James Drew's complaints about "inappropriate and ill-founded" are inappropriate and ill-founded, given that his text is inappr
opriate and ill-founded. I assume it is his, as he comments it, although there's no byline.
9) Immonen's text is almost certainly not illegal, but it could be seen as politically incorrect and has a sad choice of words – fight, enemy and so-on are words that should not be used, if one means oppose, political opponents. My first reaction after seeing the text was "what the fuck Immonen", and he blocked me on Facebook. He should have known better not to try write in a form that begs biased interpretations, because the world is full of jamesdrews.