No Obama, you and your operatives took advantage of your positions to target your political opposition, which pales in comparison to what Richard M. Nixon did, and if not for the loyal media that you regular count on, and keep in check, your butt would have been impeached long ago.
NOTE: Having a bunch of feckless GOP'ers who are easily taunted and intimidated was an added buffer to your justified impeachment. Also, John Stewart is a fraud, Obama lackey.
Obama defends IRS, says tea party targeting didn't happen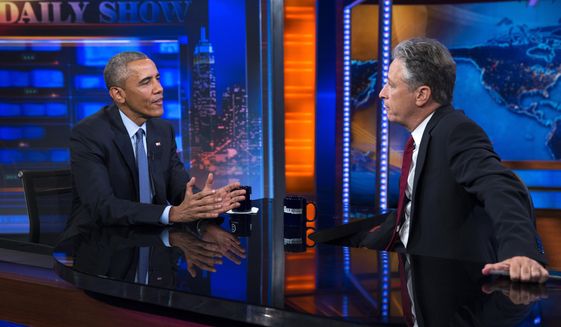 The IRS' internal auditor concluded that the agency did, in fact, target conservative and tea party groups for intrusive scrutiny, and Mr. Obama's own Justice Department is still conducting a criminal investigation into the targeting.
Mr. Obama, though, disputed that version Tuesday, according to the pool reporter traveling with the president.
Mr. Obama said Congress "passed a crummy law" that provided vague guidance to the people who worked at the IRS. And he said that employees implemented the law "poorly and stupidly."
The president went on to say that the "real scandal around the IRS is that they have been so poorly funded that they cannot go after these folks who are deliberately avoiding tax payments."
Congress, prodded by Republican leaders, has sliced money from the IRS, saying it's punishment for wasteful spending and for the targeting scandal.