Lets hope it steam rolls.
German anti-Islam PEGIDA makes surprise gains in first local polls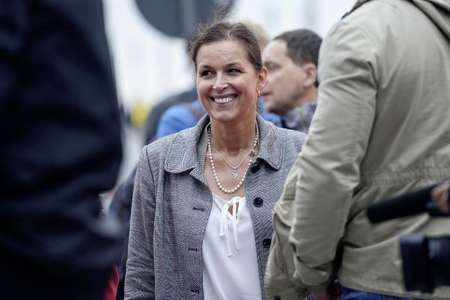 Tatjana Festerling, top candidate for Dresden's mayor from the German right-wing movement PEGIDA, attends a rally on June 1, 2015 in Dresden, Germany ( Jens Schlueter (AFP/File) )
Controversial movement takes 9.6 percent in eastern stronghold of Dresden
Germany's anti-Islam PEGIDA movement took nearly 10 percent of the vote in mayoral elections in its eastern stronghold of Dresden Sunday, a better-than-expected result for a group whose weekly demonstrations have steadily dwindled.
In what was PEGIDA's first appearance at the ballot box, candidate Tatjana Festerling came fourth in the city's polls, sparked after the conservative mayor resigned for health reasons, with 9.6 percent of the vote.
The only opinion poll published ahead of the election, by the Technical University of Dresden, had predicted she would secure between just one and two percent of votes.
The surprisingly strong showing is likely to be hailed as a success by PEGIDA, which stands for "Patriotic Europeans Against the Islamisation of the Occident" and at its height brought up to 25,000 people onto the streets of Dresden, although later rallies attracted smaller crowds.
The group, founded late last year, has also been weakened in recent months by internal strife and scandal among its leaders, yet it still managed to spur PEGIDA clones in other cities, while also sparking often far bigger counter-protests.
The best score in Sunday's first round went to Eva-Maria Stange, the joint candidate for the Social Democrats, Greens and far-left Linke, who took 36 percent, followed by a candidate from the pro-business Free Democrats (FDP) with 31.7 percent.
More here. H/T: Fjordman