MOB RULE
LIVE UPDATES–BALTIMORE CURFEW, NIGHT 4: FREDDIE GRAY'S ARRESTING OFFICERS INDICTED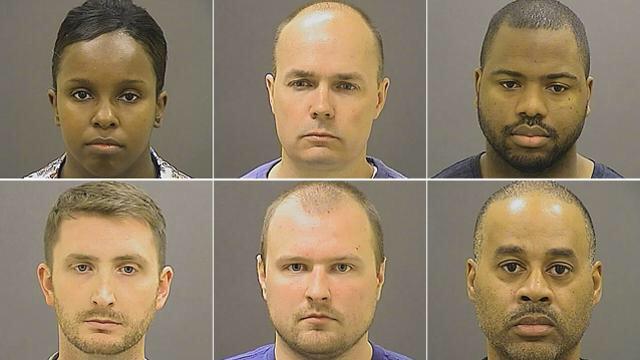 Baltimore Police Department
Breitbart News delivers live coverage of the situation in Baltimore, MD after six police officers were indicted for the death of Freddie Gray. Whether that will satisfy protesters and prevent another night of violence and riots remains to be seen.
1:41 AM EST: Dan Fleuette's report on the ground level:
The organic uprising led by members of the inner city community, which started after Freddie Gray died in the hospital after being apprehended earlier in April, has slowly transitioned to a manufactured uprising, and appears to be coordinated by anarchists and other professional grievance organizations.
While Monday's protests were violent and destructive, once the city imposed a curfew, there was little activity on the streets after 10PM, Tuesday's tear gassing notwithstanding.
Tonight at Baltimore's City Hall, there was a palpable sense of agitation in the crowd around curfew time — a small group of protesters flatly refused to honor the curfew and were quickly dispatched by police. I personally witnessed six arrests.
As far as I could tell, there were none of Freddie Gray's peers, friends, or neighbors in the crowd that was left after the curfew. Rather, there were young white anarchists, "students against Israeli apartheid" (who incidentally claimed to have seen police beating on protesters), and other black bloc protesters who were being arrested and defying police.