Like we all knew, Obama traded five top enemy operatives for a sleazy traitor. 
Obama has great disdain for the military, and for America, so it's easy to understand his anti-American moves as the street-organizer-in-chief.
At the time, Obama recognized Berghdal's release as a victory for the American people.

"On behalf of the American people, I was honored to call his parents to express our joy that they can expect his safe return, mindful of their courage and sacrifice throughout this ordeal," he said, after receiving news that the mission to retrieve him was successful.
BOWE BERGDAHL CHARGED WITH DESERTION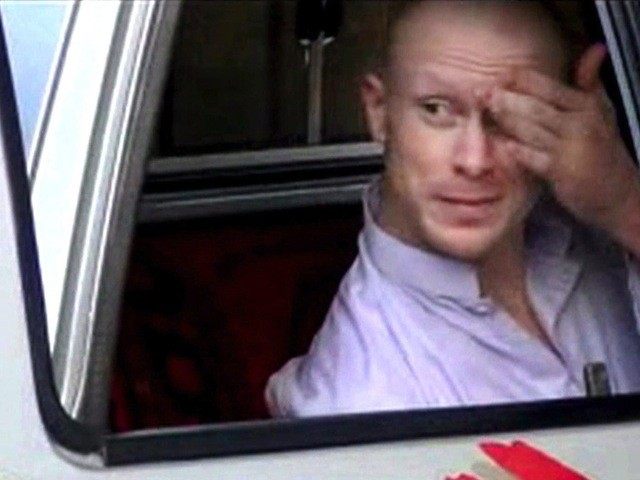 Voice of Jihad via AP
Bowe Bergdahl, a U.S. soldier who has long been suspected of abandoning his Afghanistan outpost in 2009, has been charged with desertion, Bergdahl's attorney has told the media.
Eugene Fidell, Bergdahl's lawyer, told the Washington Post that his client was handed the desertion charge sheet on Tuesday. The Army has announced that they will update the public on Bergdahl's case at 3:30 p.m. eastern time.
Last year, in an unprecedented act, the Obama administration agreed to release five top Taliban commanders in exchange for the charged Army deserter. The government of Qatar–which has frequently been accused of aiding and abetting terrorist groups–served as an intermediary for the negotiations between the Taliban and the U.S. government.
The Taliban commanders are now reportedly living large in Doha. They will soon be allowed to leave the country, because the negotiated settlement only required that they stay in Qatar for one year. Soon, they will be free to re-engage in their jihad against the United States.
When Bergdahl reached the U.S., White House National Security Advisor Susan Rice said that he served with "honor and distinction," a claim that she still defends.
"He is, as all Americans, innocent until proven guilty. He is now being tried in the court of public opinion after having gone through enormously traumatic five years of captivity," said Rice.