And why should they? when they are in fact carrying out their mandate in the exact same way as their sex driven, marauding war lord prophet.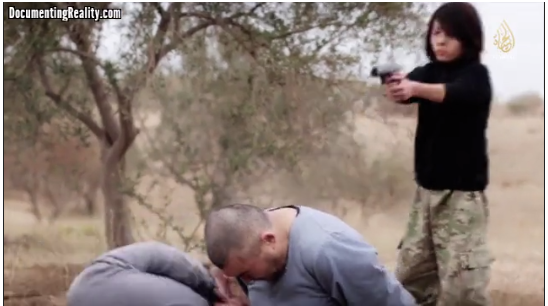 Al-Azhar refuses to consider the Islamic State an apostate
Egypt's Al-Azhar issued a statement Dec. 11, 2014, refusing to declare the Islamic State (IS) apostates. "No believer can be declared an apostate, regardless of his sins," it read. Al-Azhar's statement came as a Nigerian mufti seemingly declared IS apostates at a Dec. 4, 2014, Al-Azhar conference. Al-Azhar stated that various media outlets had misrepresented the mufti's speech.
The sheikh of Al-Azhar, Ahmed al-Tayeb, repeated his rejection of declaring IS apostates on Jan. 1, during a meeting with editors-in-chief of Egyptian newspapers. This sparked criticism from a number of religious, political and media parties, especially since Al-Azhar could have renounced the Nigerian mufti's statement on IS without addressing the issue of whether or not Al-Azhar considers the group apostates.
In press statements, Al-Azhar representative Abbas Shoman said that the institution had not declared any person or group an apostate throughout its history. Yet, this claim was refuted by the daughter of late Egyptian author Farag Foda, Samar Farag Foda, who called into an Egyptian satellite TV program, saying, "My father's assassination came as a result of fatwas issued by the majority of Al-Azhar's sheikhs declaring him an apostate, because he had called for the separation of religion from politics."
Al-Azhar's leaders — the grand mufti and the Council of Senior Scholars — have actually never declared any person or group an apostate throughout Al-Azhar's history, yet they have not taken any measures against Al-Azhar figures who have issued fatwas to that effect. Prominent fatwas include those by Al-Azhar's Scholar Front, headed by Sheikh Abdul Ghaffar Aziz, who declared Foda an apostate onJune 1, 1992. The Scholar Front comprises sheikhs who are considered radicals and supporters of ousted President Mohammed Morsi. Aziz was the dean of two of Al-Azhar's colleges and among those who drafted the curriculum for Al-Azhar University. Sheikh Abd Rabbo Muftah, an inspector in the Department of Preaching at Al-Azhar, issued another notable fatwa declaring Egyptian writer Taha Hussein an apostate in 1926. Furthermore, a committee of 20 Al-Azhar scholars declared scholar Nasr Hamid Abu Zayd an apostate and demanded that he repent for the ideas that appeared in his studies. In 1995, the Egyptian judiciary charged Abu Zayd with apostasy and forcibly divorced him from his wife, forcing the couple to emigrate.