I could have told you so, a PR stunt.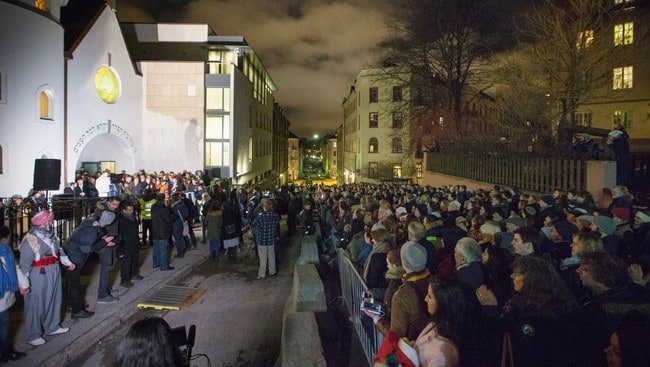 In other words, the chief rabbi wrapped elbows  with Ali Chishti who hates Jews and their supporters, and only because there's an extreme contradiction with his past anti-Semitic statements in regards to Jews and 9/11, and his supposed love fest of Jews now, he recants on his earlier words, but not so much.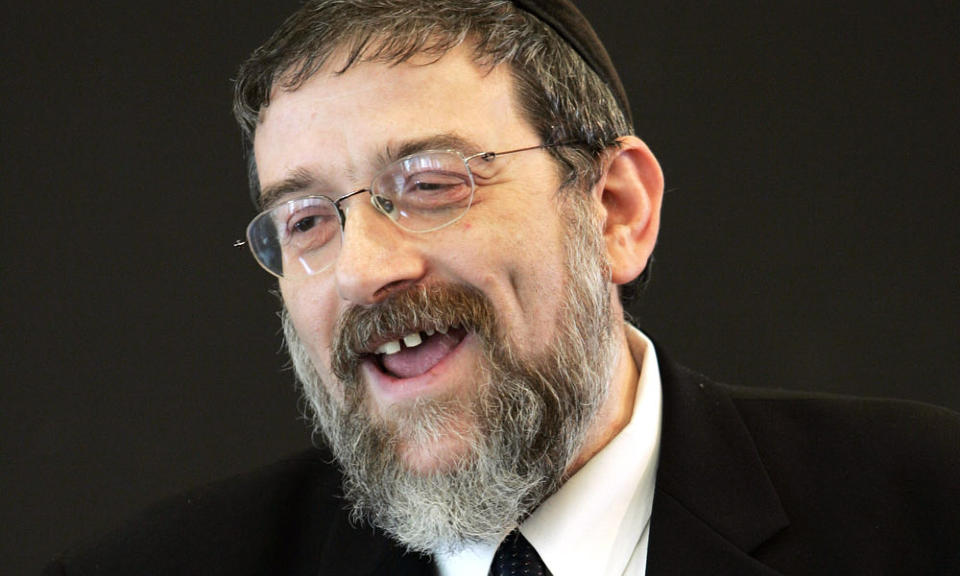 To make matters even worse, the maroon rabbi of the synagogue shouted "Allahu akbar", (h/t: And Bostom) apparently clueless that he paid homage to Allah who used the cry just before he massacred all those Jews, and in the sight and hearing of all those Muslims involved in the pr stunt. What an ignoramus.
"Allahu akbar, Allah is great! Our common God is everywhere in the world, but most of all God is where rings are formed and bridges are built between people," Jewish Rabbi Michael Melchior told the crowd. "That's where God wants to be. That's where the future of humanity is secured. Thank you all for coming here tonight."
NOTE: Like I said earlier, it's a taqiyya move: The only thing symbolic about Muslims ringing Jews while they pray, is the siege Mohamed laid for the Jews he slaughtered during his own reign of terror in the Arabian peninsula. What they are trying to pull off is the "Islamofauxbia = anti-Semitism" meme. And after they're successful, then they'll attack the "myth of anti-Semitism being equal with that of "Islamofauxbia".
Oslo synagogue 'peace ring' organizer blamed Jews for 9/11
One of organizers of solidarity initiative retracts previous statement espousing anti-Semitic conspiracy theory, but reiterates 'dislike' for supporters of Israel.
More than 1,000 people formed a "ring of peace" around the Norwegian capital's synagogue, in Oslo, Feb. 21 2015.
Photo by AP
Several hundred people gathered at a Norwegian synagogue to support Jews at an event which drew praise but also criticism because of an organizer's anti-Israel and anti-Jewish statements.
The event Saturday night featured a human chain around Oslo's main synagogue by more than 1,000 people, many of them Muslim, who had gathered there at the invitation of organizers who titled the event "Peace Ring."
The organizers, many of them Muslims, had planned the initiative with the endorsement of the Jewish community to protest the slaying on Feb. 15 by an Islamist of a Jewish volunteer guard at the main synagogue of Copenhagen, Denmark.
Ervin Kohn, head of the Jewish community of Oslo, told JTA he thought the initiative was "extremely positive" and said it could change the dynamics of minority relations in Scandinavia.
But some members of his community said the event was tainted because of anti-Semitic statements that one of its eight organizers made in 2008, and because he said this week that he dislikes people who support Israel.
Ali Chishti confirmed on Saturday in an interview with Verdens Gang, a highbrow Norwegian newspaper, that he delivered on March 22, 2008, in Oslo a speech on the alleged involvement of Jews in planning the 9/11 Twin Towers bombings in New York. The speech's title was: "Therefore I Hate Jews and Gays," the paper reported, though Chishti said he was not the one who came up with the title.
"There were several thousand Jews away from work in the World Trade Center, and why there were more Jews in Mumbai when Pakistani terrorists attacked than usual?" he said then, repeating the conspiracy theory that Jews knew in advance of the attack that killed thousands. "Jews are a small group, but everyone knows that they have a lot of power," he said.
In Saturday interviews, he retracted his words. In an interview with the daily Norwegian newspaper Dagbladet, he said they were "anti-Semitic" and "unacceptable."
"I was angry," he told Verdens Gang. "I have since changed my views." But he also said he "dislikes" people who support "an occupying force that has been condemned in several United Nations resolutions."