Blatant manipulation.
Not only that, comparing a British political party (classic Liberals) whose platform champions smaller government, more local/individual control and economic liberty, manageable immigration, with racist socialists, is beyond the pale.
JEWS ATTACK DERBY SCHOOL FOR COMPARING UKIP WITH NAZIS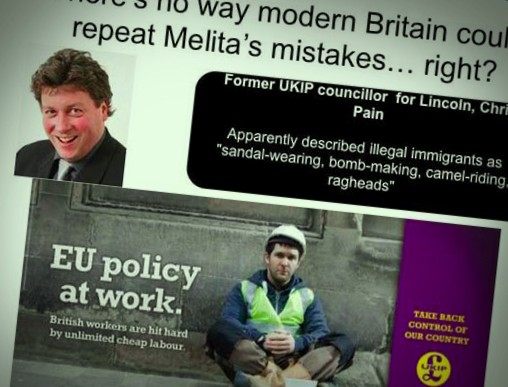 A school has caused outrage by using a photograph of UKIP leader Nigel Farage in a presentation about the Holocaust, leaving the party with no choice but to consult its lawyers.
The photo and quotes from the MEP along with David Silvester, who was a member of the Conservative Party for 20 years before defecting to UKIP and hitting the headlines, were used in assemblies in the run up to Holocaust Memorial Day, the Sunday Express reports.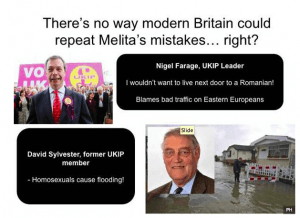 The slides included details of the death camps used in Hitler's 'final solution', Jewish Ghettos in Eastern Europe and the rounding up of Slavs and Romany gypsies.
Children were asked about the events which led up to the murder of millions of Jewish people at Chellaston Academy in Derby. They were shown slides with words such as 'Evil', 'Bloodthirsty' 'Monsters' and 'Murderers' and used excerpts from the diary of Melita Maschmann who joined the Hitler Youth and then worked as a propagandist for the Third Reich.