No surprise there.
This 'former' jihadi debated Robert Spencer in 2013 on whether or not the koran teaches warfare and subjugation. Spencer ate his lunch. He's for the same goals as his former jihadi brothers, it's just the means in attaining them where they differ. Islam 101 for all.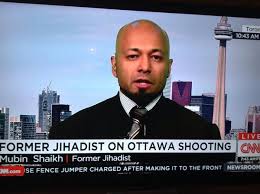 Italians in jihadist ranks, former jihadist tells Matrix
'Internet most effective recruitment channel'
(ANSAmed) – ROME, JANUARY 21 – A former jihadist now working with Canadian secret services has told the Italian television show Matrix that there are Italians "ready to fight" among the Islamic State (ISIS).
"They do not feel Italian. Only their citizenship is Italian," he said, noting that "they could be sent back to their 'home country' to carry out attacks." Repentant jihadist Mubin Shaikh was speaking ahead of an interview with the show set to air Wednesday evening on Canale 5.
"I wouldn't be surprised if there were Italians in Yemen.
Perhaps only a few. There are certainly some in Syria and Iraq.
More here. H/T: Fjordman