Secular Turkey began to expire the moment Kemal Ataturk breathed his last breath.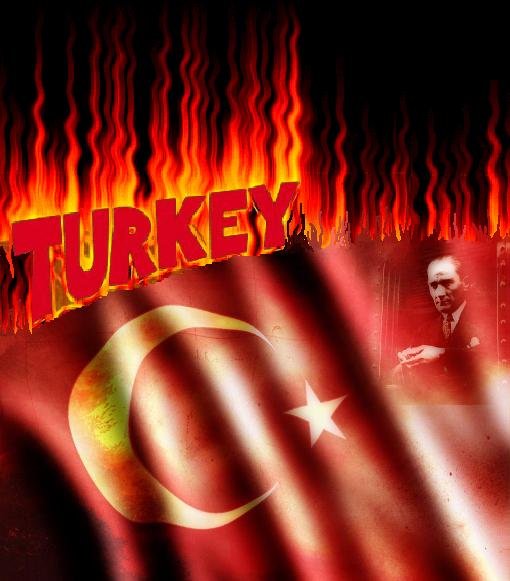 Huseyin Beheshti, a scholar of philosophy and religion, told Al-Monitor, "Sunni groups such as the Salafists now are highly active in Turkey. After the Syria problem, because of the sectarian policies of the AKP, the Turkish Islamist community is becoming more radical and fundamentalist. The caliphate ideology is currently being discussed by many Islamist groups that have no record of discussing it previously." Beheshti emphasized that the issue of a caliphate is no longer a marginal issue exclusive to members of Hizb ut-Tahrir and argued that the AKP's pro-Islamist policies helped the formation of a Salafist stronghold in Turkey.
Turks increasingly sympathetic to Islamic State
An Islamic State (IS) flag is seen atop a building in eastern Kobani, as seen from the Turkish border crossing of Mursitpinar where Kurdish peshmerga forces fight against IS fighters, Nov. 1, 2014. (photo by REUTERS/Yannis Behrakis)
A Kurdish Alevi soccer player, Deniz Naki, was brutally beaten on Nov. 2 in Ankara by supporters of the Islamic State (IS) for standing in solidarity with Kobani. Three days after his ordeal, Naki told Al-Monitor he left his soccer club in Turkey because he feared for the well-being of friends and teammates.
Naki, who grew up in Germany, is rather outspoken by Turkish standards; he is unapologetic for his Dersim tattoo. Naki's family is from Dersim, which is a town known for its Alevi Kurdish population. (The 1937-38 massacre in Dersim is still a bitter memory for Alevis and Kurds, where thousands were killed by the army.) Naki told Al-Monitor the attack was not a sporadic incident, as he had been systemically targeted by IS supporters for seven months prior to the attack. When Al-Monitor asked whether he had sought legal protection, Naki chuckled and said, "How much trust could an Alevi Kurd have in the state for protection, given that all the dead kids from Gezi [Park] are Alevis? Did you forget?" Naki is convinced there is extensive support in Turkey for the IS caliphate beyond a few fanatics who are eager to join jihad.
Naki's painful experiences lead to a crucial question: How would an IS caliphate affect Muslims in Turkey?
Abdurrahman Dilipak, a prominent Islamist columnist for the daily Yeni Akit, suggested on Nov. 2 that a caliphate, Vatican-style, should be established in Turkey. He claimed that this would be in harmony with the secular government of the Republic of Turkey. Dilipak provided a detailed justification saying that since the Ottoman Empire the caliphate had not been abolished but still lives on and should be reinstituted. Social media and secular newspapers carried Dilipak's arguments to the headlines and a fiery debate started.