A poor choice in words is hardly the grounds for prosecution.
The only thing I can say negatively about Geert Wilders (a modern day political hero), is that he's affected with the same imperfections and frailties that afflict us all. While it's true that he (Geert), as a politician, could have formulated his words more carefully, he was however "in-the-moment" at the time he stated it (electoral victory celebrations), in comparison to the Dutch state that has coldly deliberated on how to import hundreds of thousands of non-assimilable Moroccans into the country, and dispense arbitrary justice against those who offend the state over it, as well as its other paternalist and dangerous social policies.
IMHO, the brouhaha is but a mountain-out-of-a-molehill "gotcha" moment by the political elite, and yes, if (wrongly) convicted, the best public service he could be forced to do however, is not to just visit a mosque (beachhead), but to put the spike of a jack-hammer against the very foundations of it, that would be the best community service of all.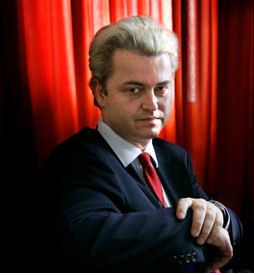 NOTE: This was published today in the Jerusalem Post but without the footnotes, which the J POST did not want to publish, and republished here with the author's consent.
He could have stated, for instance, "If the Netherlands had let in 100,000 Muslims selectively instead of a million Muslims non-selectively, it would have been a different country today".
LADY JUSTICE, WILDERS, AND THE JEWS
Manfred Gerstenfeld
The Dutch Public Prosecutor's Office has decided to bring the leader of the PVV Freedom Party, Geert Wilders, before a Dutch court. In a post-election meeting, Wilders had asked those present whether or not they wanted a greater or a smaller Moroccan community within Dutch society, and had then shouted together with them, "Less Moroccans!" 1
Such statements are insulting to the Dutch Moroccan community. Furthermore, such things began to be said to individual Moroccans. Had he wanted to, Wilders could have relayed his intended concept without occurring any risk of prosecution. He could have stated, for instance, "If the Netherlands had let in 100,000 Muslims selectively instead of a million Muslims non-selectively, it would have been a different country today".
That such statements aren't punishable is known because the prosecution has made that clear, allowing various politicians to make them in public.2 Labor party leader Diederik Samson said in 2011 that Moroccan youngsters have an "ethnic monopoly on street hindrance." It was considered a remark about behavior and not ethnicity.3 Similarly, Labor party chairman Hans Spekman said, "Moroccans who are good-for-nothings should be humiliated before the eyes of their own people."4
The prosecution's decision to bring Wilders before the court has to be analyzed within a much broader Dutch context which is also relevant to the Jewish community in particular. Wilders has been the object of death threats for years, either on the internet or elsewhere. Death threats should be deemed far more serious than the despicable shouting of "Less Moroccans!" One might have expected that the Dutch courts should have by now issued massive condemnations of many who expressed these death threats.
In reality, it remains news when a person making death threats is occasionally condemned. One of the very few cases concerned a rapper, Mo$hed. He made a music video which contained death threats to Wilders.5 In 2012, he was sentenced to forty hours of community service and one month's probation.6
Massive death threats within the public arena were already quite common in the Netherlands before it reached the point where Wilders had to be physically protected against attacks. "Hamas, Hamas, Jews to the Gas!" has been shouted by hundreds of thousands – but initially, only in football stadiums, targeting the Ajax soccer fans who had chosen "Jews" as their nickname. From that starting point, the slur began to be used against Jews in various ways, including at anti-Israel demonstrations. To that one has to add the shouts of "Death to the Jews!" heard in recent anti-Israel demonstrations.7 In these cases, a few individuals at most will actually be prosecuted.
The new Wilders lawsuit poses a great challenge for the Dutch justice system. Lady Justice has already once looked away from behind her blindfold in a similar case. In 2013, a Turkish neighborhood volunteer in Arnhem, Mehmet Sahin, interviewed a number of anti-Semitic Turkish youngsters on national TV. Sahin was subsequently threatened and ostracized by both members and leaders of the Turkish community in his hometown for having exposed Turkish anti-Semitism.8 He first went into hiding and afterward moved out of Arnhem with his family. Only one of the young Hitler admirers that were interviewed was convicted. He had said, "What Hitler has done to the Jews, I am quite honestly speaking, I am quite happy about it",9 and was sentenced to re-educational community service. None of those who had threatened Sahin were even prosecuted. Sahin, however, was warned by the prosecution that if he would once again insult those people who assaulted him, he himself would be prosecuted.10
In view of all these recent events, it seems best that if the court does find Wilders guilty, it should sentence him to re-educational community service. The best option would be that he would have to attend a number of sermons in mosques, preferably Salafist ones. This re-education may cost the Dutch state some extra money for Wilder's security, but then again the state has saved quite a sum in not prosecuting those who have made death threats against Wilders. If Wilders' sentence is any more severe than that, Lady Justice might just have to be referred to a psychiatrist.
In the Sahin affair, the subject entailed the hatred of Jews. Sahin, however, remarked that the young Turks he interviewed had, besides their anti-Semitism, an enormous hatred of the Dutch.11 This was one of the many examples that the Jews – and now also Israel – are the first to be attacked, but rarely the last. Death threats against Jews preceded by far those against others such as Wilders and former Dutch parliamentarian Ayaan Hirsi Ali. That is a typical symptom of a harsh reality where Jews – and now also Israel — are indicators of developments which later on hit others, as well.
One of the best and oldest examples of such is that after terrorist attacks on El Al planes, strong security measures were taken for the Israeli airline. Since then, however, all travelers at all airports have to undergo security checks. Young people hardly believe that decades ago travelers at airports did not have to undergo any security checks.
For many years now Israelis were warned by their government to be careful when travelling abroad. Recently, the British government issued a warning to all nationals to be careful when travelling abroad. This statement was made in view of the British involvement in the war against the Islamic State Movement (IS).12
There are regularly examples of what initially may only concerns Jews, eventually happens to the society at large. For whoever chooses to see it, this is an established phenomenon. Several of these issues concern fears of aggression. Henri Markens, the former head of the Jewish high school Maimonides in Amsterdam, said a number of years ago, "We say to our students, put a cap over your kippa." He remarked that it was unfortunate that the circumstances forced the school to say this.13 Another example which only concerns the fear of violence toward the Jewish community – is that last summer, some fearful Dutch Jews took down the mezuzah — a scroll of parchment with Biblical verses — from the doorposts of their homes, in order not to be identifiable as Jews forpassers-by.14
A recent and somewhat similar example of how this subsequently hit society at large is of a school in the town of Etten Leur that cancelled a school trip to Paris out of fear of terrorist attacks in the metro.15 Jewish schools have, for years already, been asking themselves whether or not it is safe to take their students on school trips.
A more serious example of this phenomenon is the following. Like certain Orthodox Jews, Dutch military personnel are recognizable by their clothing. A few weeks ago, the Ministry of Defense instructed soldiers not to wear their uniforms in trains as threats against them – probably from Muslims — had been received.16 This Order was followed by the Ministry of Finance which gave similar instructions to customs employees.17 The latest order is that Dutch military abroad have been told to take care that their location cannot be identified on social media.18
Time will tell whether or not the reality of Dutch society at large, in coming years, will be forced to adopt more security approaches and attitudes of Jews and Israel. That will depend on whether or not the death threats in the Netherlands, mainly from Muslim circles, will become more frequent and more widely oriented, and whether or not Dutch jihadists will start to follow the advice given from their Middle-Eastern colleagues – to start killing Dutchmen at random.
Footnotes: