Israel breathes a sigh of relief.
But it ain't over, the conservatives face an enormous fight within the GOP, in getting the old bulls to reign in on their own liberal tendencies, as well as hold Obama accountable and actually build a coherent messaging (meaning what they really stand for) and articulate it to the people. This vote was not about old GOP policies, but about being against Obama's failed policies.
The RINOS can crow all they want to over this win, but this is the same party leadership who whimpered -in wake of the 2008 elections that served Obama his first term win as president- that the GOP was now a de facto regional party, not being able to win across the board throughout the union.
Just two short years later in 2010, thanks to the Tea Party, they handed the Democrats are massive drubbing. I know of no other party that regularly besmirches, disdains, and yes, even smear, like the GOP does with its ground troop base of supporters. Remember, it was GOP leader Mitch McConnell who stated this year that he intends to "crush" the Tea Party.
His pals however, are barely squeaking over the finish line, and in an election year that they should be winning in their individual states in landslide records, but they're not. That is due to their inability to promote their conservative ideals, but they don't articulate them, because they don't believe in them, and so they teeter-totter, barely getting elected.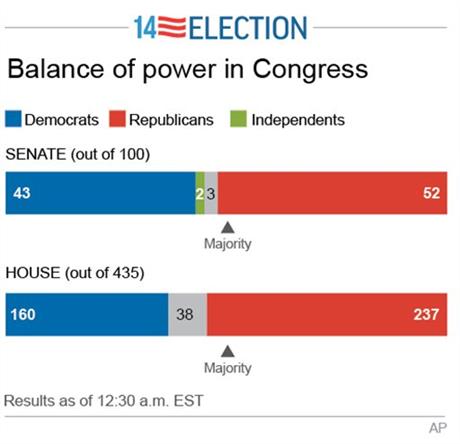 GOP takeover: Republicans surge to Senate control
WASHINGTON (AP) — Riding a powerful wave of voter discontent, resurgent Republicans captured control of the Senate and tightened their grip on the House Tuesday night in elections certain to complicate President Barack Obama's final two years in office.
Republican Mitch McConnell led the way to a new Senate majority, dispatching Democratic challenger Alison Lundergan Grimes in Kentucky after a $78 million campaign of unrelieved negativity. Voters are "hungry for new leadership. They want a reason to be hopeful," said the man now in line to become majority leader and set the Senate agenda.
Two-term incumbent Mark Pryor of Arkansas was the first Democrat to fall, defeated by freshman Rep. Tom Cotton. Sen. Mark Udall of Colorado was next, defeated by Rep. Cory Gardner. Sen. Kay Hagan also lost, in North Carolina, to Thom Tillis, the speaker of the state House.
Republicans also picked up seats in Iowa, West Virginia, South Dakota and Montana, all states where Democrats retired. They had needed a net gain of six seats to end a Democratic majority in place since 2006.
In the House, with dozens of races uncalled, Republicans had picked up 11 seats that had been in Democratic hands, and given up only one.
A net pickup of 13 would give them more seats in the House than at any time since 1946.