Disgusting.
That someone would dare to do such a thing in a society that once fought a Cold War against Communist Socialism, and more recently experienced 9/11, tells you just how off kilter (putting it lightly) our institutions of "higher learning" have become.
She's just like this one, Malala Yousafazi, another Commie who supports the Islamonazi regime of Hamas.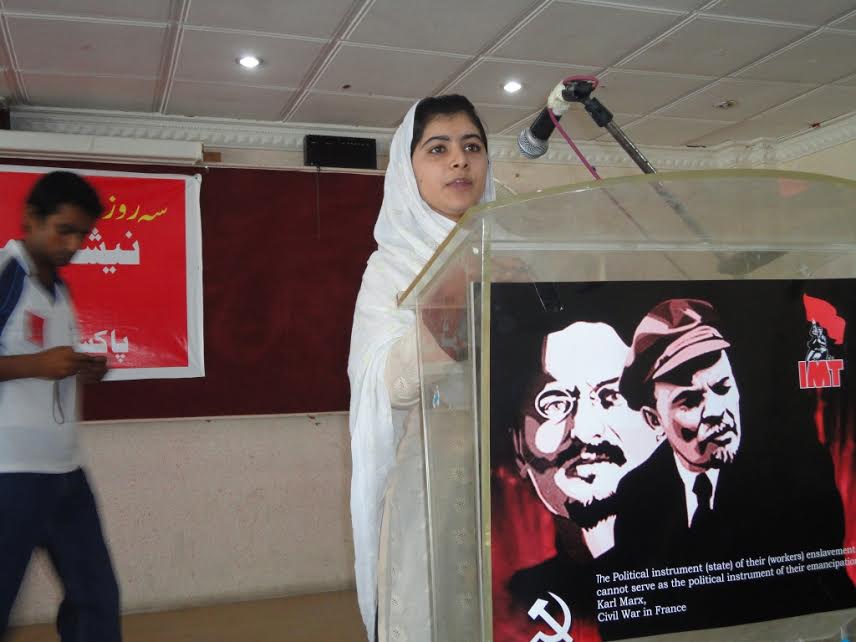 Via Truth Revolt and Jamie Glazov
Pro-Terrorism T-Shirts Sold on Campus of Tufts Univ.
10.31.2014
T-Shirts advocating for violent resistance and terrorism were sold on the campus of Tufts University during Students for Justice in Palestine's national conference last weekend. As reported in the Washington Free Beacon, the organization convened from October 24th to 26th to train students in "direct action."
One attendee, Gina Barghouti took to Instagram to brag about her new "goodies" that she brought back from the conference.
The t-shirt proclaiming that "resistance is not terrorism" features terrorist hijacker Leila Khaled, a member of the terrorist organization the Popular Front for the Liberation of Palestine (PFLP). Khaled participated in two airplace hijackings: one in 1969 and the other in 1970.
The t-shirt attempts to justify Palestinian terrorism, which includes suicide bombings, against Israel as a legitimate form of resistance against Israel and the Israeli government.
One conference attendee commented on the photo that she "bought the same tshirt."