IDF: Moment ago, a Syrian aircraft infiltrated Israeli airspace. IDF's Patriot air defense system intercepted the aircraft. The circumstances of the incident are being reviewed. More information to come.
h/t: Brian of London: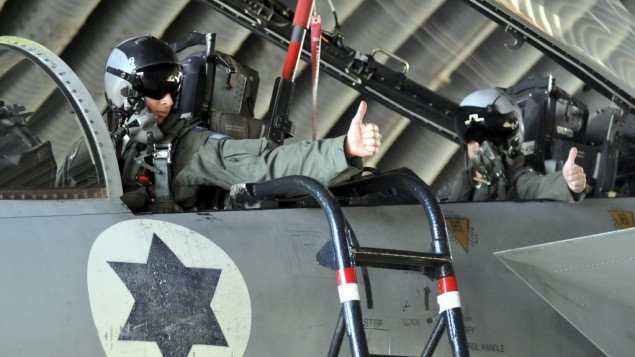 IAF shoots down Syrian fighter jet over Golan Heights
IDF shoots down drone that entered Israeli air space …

Watch: Hezbollah uses drones against Syrian rebels
The IDF shot down a Syrian warplane that invaded Israeli airspace over the Golan Heights on Tuesday.
At 8:57 a.m., the Israel Air Force detected a Sukhoi-24 Syrian fighter jet crossing into Israel's air space. The jet was 800 meters into Israeli air space when the IAF took the decision to shoot it down, a senior IAF official said.
"This decision is in line with our policy of intercepting all intrusions into our air space," he said.
A minute and 20 seconds after the decision was taken, the dual seat Sukhoi-24 was struck by a Patriot surface-to-air missile, and the pilot and navigator managed to parachute out of the aircraft.
When the missile was fired, the plane was still flying into Israel, but when it struck, the jet had turned around and was flying back into Syria. The air crew members parachuted into Syrian territory. The aircraft was flying at between 10,000 to 14,000 feet, the source said.
"This jet could have reached the center of the country within a short time. In under a minute, it would have been over Lake Kinneret, and within five minutes, it could have gotten to any place," the air force officer said.