Trying to whittle away on the 24% of Finns who still support Israel.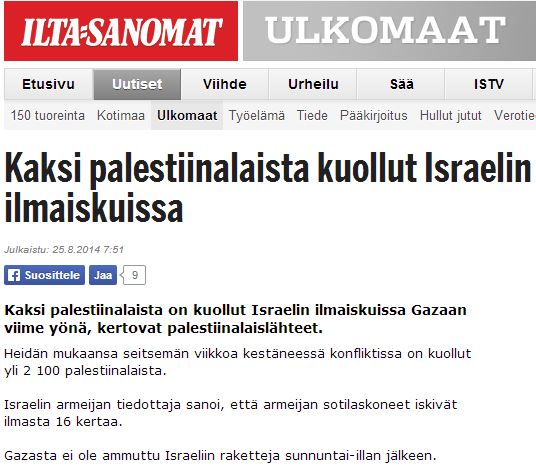 TT translation:
Two Palestinians died in Israeli air strikes

Published: 25/8/2014 7:51

Two Palestinians have died in Israeli air strikes on Gaza last night, Palestinian sources say.

According to them, seven weeks in duration, the conflict has killed more than 2 100 Palestinians.

Israeli army spokesman said the military jets attacked from the air 16 times.

Gaza has not fired rockets into Israel after Sunday evening.
Over 120 rockets fired at Israel from Gaza Strip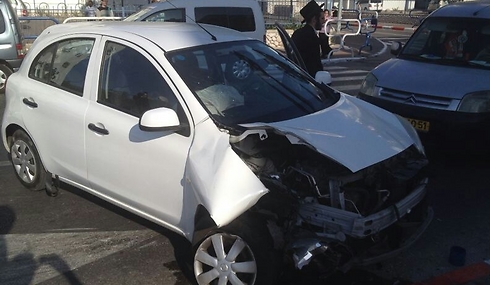 Damage caused to car from rocket shrapnel in Sderot.
Iron Dome intercepts rocket over Jerusalem mountains; rocket shrapnel causes damage to property in Ashkelon, Hof Ashkelon, Sderot, Eshkol.
Ilana Curiel, Matan Tzuri, Yoav Zitun0
8.24.14, 23:57 / Israel
After three Israeli Arabs were wounded at the Erez border crossing in a rocket attack, Palestinian terrorists continued pounding southern Israel with rockets well into Sunday night.
Some 126 rockets were fired on Sunday since midnight from the Gaza Strip at Israeli territory.
In a heavy barrage around midnight, four rockets were intercepted over Kiryat Malachi. Earlier Sunday night, the rocket alert siren was sounded in the area surrounding Jerusalem. One rocket was intercepted over the Jerusalem mountains. Two other rockets were intercepted over Ashkelon, while three hit open areas.
In the evening hours, rocket shrapnel hit two houses in Ashkelon and in the Hof Ashkelon Regional Council on Sunday evening, while two rockets were intercepted over Ashkelon. No one was hurt, but damage was caused to property. 11 rockets were fired at the Eshkol Regional Council, one of them hitting near the border fence, one inside one of the communities and the rest in open areas. Three rockets exploded in open areas in the Sha'ar HaNegev Regional Council, while one hit an open area in the Ramat Negev Regional Council. Two more rockets hit open areas in Sdot Negev.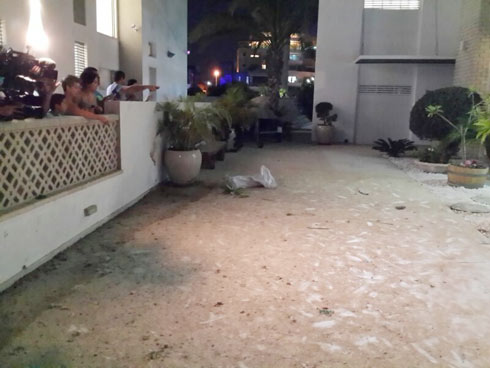 Rocket shrapnel hits house in Ashkelon (Photo: Aviel Magnezi)
One rocket was intercepted over Sderot on Sunday afternoon, with shrapnel hitting a road in between houses, causing damage to vehicles and structures. One woman suffered from shock. Three rockets were shot down over Sha'ar HaNegev, while two others fell outside communities in the regional council. Seven rockets hit the Eshkol Regional Council, two of which hit a cowshed, killing several cows. Five rockets hit Sdot Negev, while 1 hit an open area in Hof Ashkelon.
More here. H/T: Simon Elo