Heavy barrage of rockets fired at Tel Aviv area, southern Israel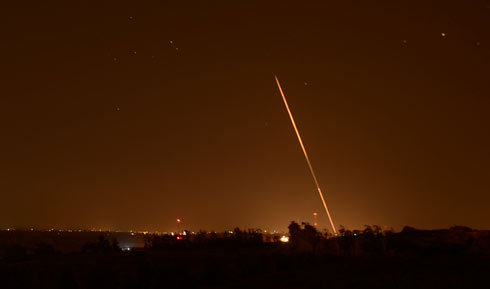 Hamas says it fired 40 rockets, claims responsibility for firing M-75 and Fajr-5 rockets at central Israel, J-80 missile at Ben Gurion Airport.
Yoav Zitun, Elior Levy
08.19.14, 23:30 / Israel
A heavy barrage of rockets was fired at Israel on Tuesday night, ar around 10:40pm. Loud explosions were heard in the Tel Aviv metropolitan area, while Code Red sirens blared throughout southern and central Israel.
Hamas said it fired 40 rockets at Israel. Among them, two hit open areas in the Sha'ar HaNegev Regional Council, four more in open areas in the Eshkol Regional Council, and five hit open areas in the Be'er Sheva area.
At least one was intercepted over central Israel and another fell in an open area. Two more were intercepted over Sderot, two intercepted over Be'er Sheva, two shot down over Kiryat Malachi, three were intercepted over Ashkelon.
Rocket launched from the Gaza Strip at Israel (Photo: Avi Rokach)