Unspeakable horror and brutality that we have come to know on an all too regular basis.
UPDATE So this might explain his last words on earth, that actually showed sympathy for the jihadi cause. I watched the video, and he placed extra emphasis on chosen words, there wasn't a moment of hesitation or doubt in his speaking. I find it somewhat almost as troubling as what followed.
 Daniel Greenfield: "When people choose to support evil, they don't think about how easily they could fall victim to it."
James Foley Went Looking to Support Terrorists in Syria, Instead They Cut Off His Head
James Foley was one of a new breed of activists calling themselves journalists. He didn't travel to report on a story, but to promote an agenda. And the agenda was obvious from his Twitter feed.

Any human life lost is tragic, but a moral individual would have much more empathy for the Syrian Christians who suffered at the hands of Foley's favorite Jihadists than one of their pet propagandists.

Foley came to Syria to support the Sunni Islamist rebels against the Syrian government.

He cheered on the Sunni Muslim terrorists fighting to ethnically cleanse the Christians of Aleppo. In the conflict between Israel and Hamas, his tweets and retweets were chock full of pro-terrorist propaganda. MORE HERE:
'These savages have got to be stopped. It's coming (to the) West.'
'Spare the lives of the remaining hostages. Like Jim they are innocents': Brave mother of beheaded American journalist calls on ISIS to cease killing as she pays tribute to her 'extraordinary son'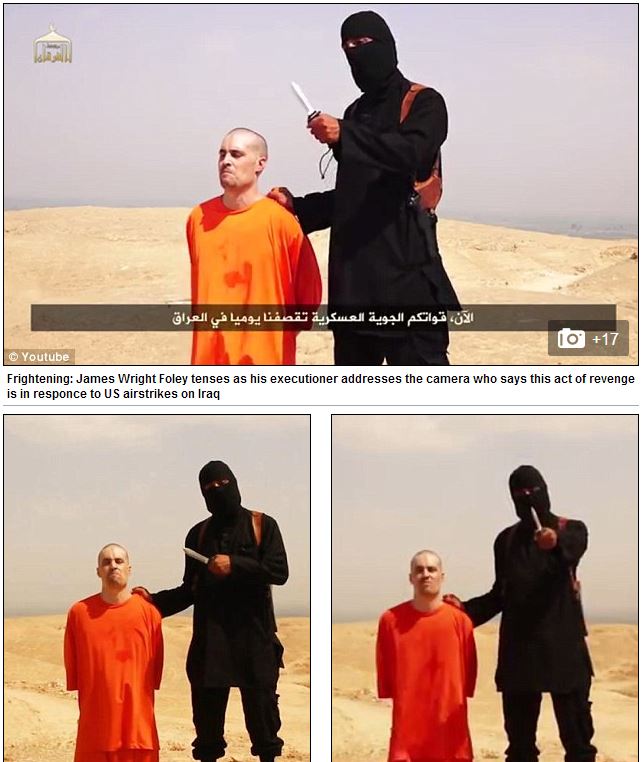 American photojournalist James Wright Foley has been beheaded by ISIS forces
Foley has been missing since Thanksgiving 2012 while working in Syria
ISIS posted the extremely graphic video 'A Message to America' to social media

Foley speaks to camera before his death and labels the US his killers
Apparently coerced by his captors into speaking against his country

A masked and robed member of ISIS speaking English in what is thought to be a British accent addresses the camera as well

After the execution of Foley, the ISIS member says that missing American journalist Steven Joel Sotloff will be killed next
A man identified as Sotloff in a caption on the video is then paraded in front of the camera

Beheading comes one day after ISIS threat to America that 'we will drown all you in blood' for the US-aided Kurdish recapture of the Mosul Dam
President Obama is expected to comment on the video Wednesday

The mother of executed photo-journalist James Wright Foley, 40, has issued a statement after a video surfaced Tuesday showing his horrific beheading by ISIS terrorists as revenge for U.S. airstrikes in Iraq.
In a statement posted on the Free James Foley Facebook page, Diane Foley writes that she and husband John 'have never been prouder of our son Jim'.
Mrs Foley writes that her son spent his life fighting to expose the suffering of the Syrian people, while pleading with his captors to spare the lives of remaining captive Steven Joel Sotloff, who also appears in the video as the group's next target.
'We implore the kidnappers to spare the lives of the remaining hostages. Like Jim, they are innocents. They have no control over American government policy in Iraq, Syria or anywhere in the world.
'We thank Jim for all the joy he gave us. He was an extraordinary son, brother, journalist and person.'
Beheaded: James Wright Foley in a grab taken from YouTube and posted online by ISIS
Appeal: Foley's mother Diana (center in left picture) issued a statement following the video's release, asking ISIS to release the other hostages