Islam 101 is pure imperialist supremacism that drives any non-Muslim society in its wake to the point of capitulation and cultural/societal extinction.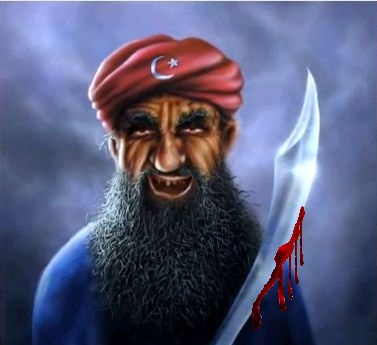 Of course it is not 'vibrant diversity' which is being wiped out in Iraq, but men, women and children by their tens of thousands. This is not about the failure of coexistence, and the problem is not 'conflict'. This is not about people who have trouble getting on and who need to somehow make up and 'come together'. It is about a well-articulated and well-documented theological worldview hell-bent on dominating 'infidels', if necessary wiping them off the face of the earth, in order to establish the power and grandeur of a radical vision of Islam.
How Dissimulation about Islam is Fuelling Genocide in the Middle East
by Mark Durie
Lapido Media
August 12, 2014
Tens of thousands of Yazidis have been driven from their homes in northern Iraq.
In northern Iraq religious genocide is reaching end-game stage. Islamic State (IS) soldiers, reinforced with military equipment originally supplied by the US, are driving back Kurdish defenders who had been protecting Christians and other religious minorities. While hundreds of thousands of refugees have been fleeing into Kurdistan, around 40,000 Yazidis and some Christians are trapped on Mount Sinjar, surrounded by IS jihadis. (Yazidis are Kurdish people whose pre-Christian faith derives from ancient Iranian religious traditions, with overlays and influences from other religions.)
The Assyrian Aid Society of Iraq has reported that children and the elderly are dying of thirst on Sinjar. Parents are throwing their children to their deaths off the mountain rather than see them die of thirst or be taken into slavery by IS.
The IS jihadis are killing the men they capture. In one recent incident 1500 men were executed in front of their wives and families. In another incident 13 Yazidi men who refused to convert to Islam had their eyes plucked out, were doused with gasoline and burned alive. When the men are killed, captured women and children are enslaved to be used for sex, deployed as human shields in battle zones, or sold to be used and abused as their new owners see fit.
The United States has ironically called for greater cooperation. UN Ambassador, Samantha Power, urged 'all parties to the conflict' to allow access to UN relief agencies. She called on Iraqis to 'come together' so that Iraq will 'get back on the path to a peaceful future' and 'prevent ISIL from obliterating Iraq's vibrant diversity'.