Gee, that didn't take long now did it?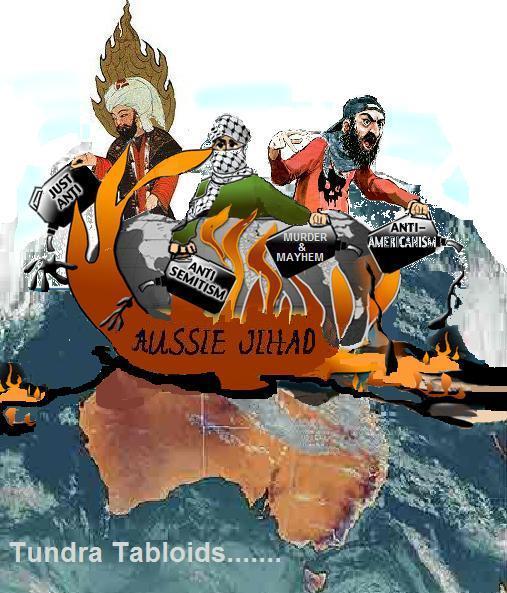 Teenage supporter of Islamic State arrested
Teen Islamic State supporter arrested
A 19-year-old man who is a supporter of the terrorist group Islamic State and made headlines for walking off the set of SBS program Insight, has been arrested for allegedly verbally abusing a cleaner in western Sydney.
A teenage supporter of the terrorist group Islamic State, who gained notoriety after an appearance on television last week, has been arrested over an alleged religious attack on a cleaner at a western Sydney shopping centre.
In an incident that will raise fears of growing violence in Australia, the 19-year-old, who goes by the Islamic alias Abu Bakr, allegedly verbally abused, threatened and intimidated a 43-year-old cleaner at the Bankstown Central shopping centre on August 10.
He was kicked out of the centre by security but allegedly returned 1½ hours later and again abused the man, who was still cleaning.
Abu Bakr stormed off the set of SBS program Insight after a heated discussion with host Jenny Brockie.
Security again escorted Abu Bakr and a friend out of the centre and called police, who launched an investigation.
Police sources told Fairfax Media the alleged abuse was being treated as a religious "hate crime".
A spokeswoman said the cleaner did not know the teenager and he was "fearful".
Abu Bakr walked off the set of SBS program Insight last week after being quizzed on his passport cancellation and his support for the gruesome actions of the Islamic State in Iraq and Syria.
He is one of a growing number of young Sydneysiders who are outspoken in their support of the terrorist group.
Two Sydney men, Khaled Sharrouf and Mohamed Elomar, are among a handful of Australians believed to be fighting with the Islamic State in the Middle East.
Abu Bakr had his passport cancelled by ASIO in December last year because the spy agency said he "holds an extreme ideology and is planning to travel in order to engage in militant extremism".
In an interview with Fairfax last year, he said his "brothers" had been randomly targeted by intelligence authorities since the conflict in Syria began.
"If you refuse to be silent on something, on the injustice, on the evil, on the raping and killing and bombing in Syria, then they label you a jihadist or a fanatic or an extremist," he said in December.