Out of their own mouths.
Supports IS 'beheading

SUPPORTS IS: Spokesperson for the Prophet's Ummah, Ubaydullah Hussain gave his last interview of VG.
Photo: HARALD HENDEN, VG
Extremist Hussain: Nobody is killing civilians or children
Ubaydullah Hussain (28) in the Norwegian extreme Islamist group Prophet's Ummah are fans of procedure of the Islamic state (IS) in Syria and Iraq.
In a television interview with the Times says the spokesman for the Prophet's Ummah, Ubaydullah Hussain, his goal is to change the Norwegian society modeled on the so-called Islamic State (IS) in Syria and Iraq.
The 28-year-old Norwegian-born man is a prolific Islamist who has figured in the Police Security Service (PST) list of radical extremists.
He answers, "absolutely" to the question about the Prophet Ummah supports the organization now calls itself the Islamic State (IS), formerly ISIS or Isil (Islamic state in Syria and the Levant).
IS was formerly part of al-Qaida, but al-Qaida distanced himself from them, partly because they were too extreme.
After a very brutal and effective military intervention IS now controls about a third of both Syria and Iraq, and have established what they call the Islamic state there.
IS has been known for extreme violence. VG Hussain showed a video where soldiers from IS beheading a named person, who allegedly worked for the Iraqi government.The video is published by IS 'own PR department.
Accepts beheading
– Certain offenses in Islam means the death penalty. When wars against one party must expect to be killed, says Ubaydullah Hussain
– Is beheading okay?
– Beheading is not torture, people die instantly, as opposed to how the West does with Muslim prisoners.
– You support this procedure as we saw here on the video?
– I support the death penalty in such cases, yes.
– Do you think there is no suffering when you cut the head of a human being?
– Man dies instantly. Man dies in a short time.
– Propaganda
The spokesman for the Islamist group set up in the interview with VG because he believes the so-called Islamic State is portrayed wrong in the Western media.
– There is a huge propaganda going on. Midwest and Western governments and Western media gives a totally wrong impression of what the Islamic state stands for and what Islam stands for. What we see in the media is not consistent with our data.
– What is your information?
– There are no civilians killed. There is no child who is killed. I find it reprehensible that the West uses children as part of their propaganda, says Hussain same day as it comes reports of hundreds of Yezidi killed in northern Iraq.
– What about the Yezidi people, who have fled to the mountains where it is almost 50 degrees hot, without food and drink?
– Those who have chosen to flee the state has done it at will, said Hussain, adding:
– Now is it in Islam, and it is also the reality of these areas, the non-Muslim citizens have two choices, or they get three choices from the Islamic state. Selecting one is either to convert to Islam, become Muslims, or they must pay a form of tax. This tax is very low for information I got from Raqqa in Syria yesterday, so this tax is 0.5 percent.
In an interview with Vice News says Sharia judge Abu Abdula in the Syrian city of Raqqa that you have no choice but to kill those who do not convert or pay this tax.
Deterrence
A source VG has repeatedly been in contact with in Raqqa in Syria says that "the citizens of the city of hate" warriors of IS.
The person has documented crucifixions and executions. An event that has gone around the world in the city was as headless bodies were hung on fences and disembodied heads mounted on stakes.
– Part of this public punishment is to show what offenses can lead to death, so they can stay away from these offenses, Ubaydullah said Hussain.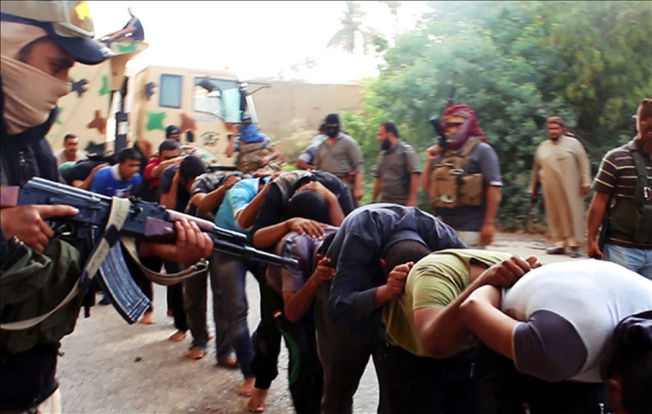 BRUTAL THE JOURNEY: Here is a picture from a milli Supervisory website where IS-soldiers holding Iraqi soldiers captured after they took over a military base in Tikrit. The image is deployed in mid-June.
Photo: AP PHOTO BY MILITANT WEBSITE.
Hussain says he is in contact with "several people" who are in Syria or Iraq and that "there are several that are associated or have been associated with the Prophet's Ummah in Syria or Iraq."
Hussain believes there is a "global war against Muslims" and lists China, Chechnya, Burma, Palestine, Kashmir, Afghanistan, Iraq, Somalia, Pakistan and Yemen as places where Muslims are attacked.
– We must protect ourselves, we need to have a country where we can be safe, where we can practice Islam properly and where pride is not violated, as is done today, he said the reason why it is necessary to introduce an Islamic state.
– Let go
Progress Party MP Sivert Bjørnstad has characterized Hussain as a "cowardly terrorist play" in an article in the online newspaper . He also encouraged Hussain to leave Norway. As did colleague Mazyar Keshvari, also Member of Parliament for the Progress Party, who said to TV 2 a few days ago that "I encourage them to look to get out of the country as quickly as possible."
Ubaydullah Hussain says he has not been in Syria or Iraq in recent years, but "if I get the chance I will also travel to the Islamic state." He argues, however, that for him is "difficult journey" because PST can come to arrest him if he tries to go there.
Comforter therefore considers it paradoxical that Norwegian politicians urge him to go from Norway, while he believes PST will arrest him if he was heading to Syria or Iraq.
– If we want to go, why are we then imprisoned because we want to go? Why are we when prosecuted, why are our passports taken away, why are we stopped at the airport? We have a good example today. Two brothers imprisoned in Norway, because the PST mean that they wanted to travel to Syria, says Ubaydullah Hussain, who "requires that they be released immediately and that the government itself believes that we should go."
– If they want us to go, if the government wants us to go, they need to let go and not detain us.
Ubaydullah Hussain also responds Keshvari of the same coin.
– Mazyar Keshvari is a refugee from Iran and if he does not like my Norwegian-Muslim values, so I encourage him as fast as possible to get out of Norway or find a place where he could practice their religion, beliefs and viewpoints, says Hussain.
– Reprehensible humanity
– I never asked them to go abroad to engage in crimes against humanity. There is a reason why they stopped at the airport, it is because the security authorities believe they have planned terror activities, says Mazyar Keshvari after being made aware of the statements of Hussain.
– My message to them is that they can go to a country which already has sharia, rather than changing Norway to become a Sharia state.
FRP politician thinks it's interesting that Hussain points out that he is an Iranian refugee.
– I've escaped from a community that is close to the Prophet's Ummah jobs. A society where one practices sharia, which involves people being systematically persecuted and at worst executed for their political beliefs. That's why I and many of those who have escaped from the kind of society have taken refuge in the West.
Keshvari says he has escaped from exactly the same values ​​as the Prophet's Ummah wants in Norway, and that Ubaydullah Hussain "can not be understood berry of what it means to escape from the kind of country."
– In all areas showing the Prophet Ummah that they have a deplorable human life and values, which do not belong in the free Norwegian society. We need to do everything we can to fight them and crush the type groupings before they get a foothold, says Keshvari.
– There is a difference between travel and travel to participate in terrorist activities. It is clear that if Norwegian citizens travel to participate in other countries' wars and terrorism, it must shut down hard, says Sivert Bjørnstad.