It's who they are, it's what they do.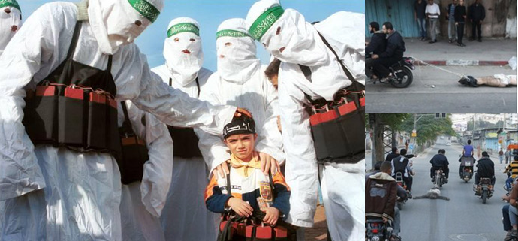 It comes as no surprise to any of us who know what these savage barbarians are like. Anyone who thinks that the media is able to move around the Gaza Strip of in P.A. administered areas freely, with no strings attached, are just fooling themselves.
Hamas spokesperson: We deported foreign journalists for filming missile launches
Hamas spokesperson Isra Al-Mudallal, said in a TV interview on Friday that journalists who filmed "places from where missiles were launched" were forced by security personnel to stop or leave the Gaza Strip.
According to a new report by MEMRI (the Middle East Media Research Institute, Mudallal, told the Lebanese TV station Mayadeen TV by Skype that some journalists "would focus on filming the places from where missiles were launched."
"Thus, they were collaborating with the occupation," said Mudallal, the head of foreign relations in the Hamas Information Ministry.
"These journalists were deported from the Gaza Strip. The security agencies would go and have a chat with these people," she explained.
Hamas security personnel would give the journalists "some time to change their message" and "one way or another" they would be forced to change their reporting.
The spokesperson went on to say Hamas had some of the journalists "under security surveillance" and were able to reach them despite the ongoing war with Israel.