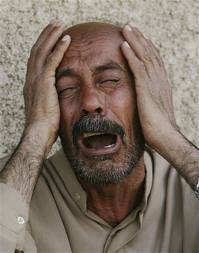 Masked gunmen kill police chief in Libya's capital
TRIPOLI, Libya –  Masked armed men killed the police chief of Libya's capital Tuesday, the Interior Ministry said, amid an ongoing battle for the city's international airport.
As militia violence raged throughout the country, lawmakers voted Tuesday for a measure that would have the country's president elected in a direct, popular vote — a first for the North African nation.
Authorities found the police chief, Col. Mohammed Sweissi, dead in Tripoli, ministry spokesman Rami Kaal told The Associated Press. A ministry statement said masked gunmen attacked him after he left a meeting in Tripoli's Tajoura neighborhood and also kidnapped two of his associates.
Abducted soldiers killed in Yemen
Al-Qaeda-affiliated group says it killed 14 soldiers hours after they were kidnapped from a bus.
Last updated: 

09 Aug 2014 08:23
Gunmen believed to be linked to al-Qaeda have kidnapped and killed 14 Yemeni soldiers returning home from duty, local officials and residents say.
Residents found the bodies of the men on a road near the city of Seiyoun in Hadramout province, three hours after they were abducted from a public bus on Friday.
The soldiers were travelling by bus from Seiyoun towards the capital Sanaa. A witness told Al Jazeera that fighters stopped the bus and took the soldiers by force, then executed them by knife and left their bodies on the road.
Another report said the bodies were riddled with bullets.
Al-Qaeda in the Arabian Peninsula (AQAP) said on its official Twitter account that the group had executed the 14 soldiers.
Pilot killed as copter crashes bringing relief to Iraq's Yazidi refugees
A helicopter of Iraq's Kurdish autonomous government carrying aid to stranded Yazidi refugees in the Sinjar mountains of northern Iraq crashed Tuesday, killing the pilot and wounding other passengers including a New York Times journalist on assignment for the newspaper.
Alissa J. Rubin, 56, the Times' Paris bureau chief and a longtime war correspondent, suffered an apparent concussion and broken wrists but was conscious, she confirmed when contacted briefly by cellphone. Adam Ferguson, 35, a freelance photographer working for the Times who was accompanying her, said via cellphone that he was not injured.
Rebels claim five government soldiers killed amid fresh fighting in Unity state
August 11, 2014 (KAMPALA) – Fighting is continuing in South Sudan's Unity state despite the resumption of peace talks resuming between the country's warring parties in the Ethiopian capital, Addis Ababa.
Soldiers from the South Sudanese army (SPLA) on guard in Bentiu, the capital of South Sudan's Unity state on 12 January 2014 (Photo: Reuters)
Rebel forces have been battling government troops in a series of exchanges over control of the oil hub capital of Bentiu.
The opposition groups led by former vice-president Riek Machar has also accused the South Sudanese army (SPLA) of launching another offensive against their positions in Rubkotna county's Kaljak payam (district) on Monday.
Speaking to Sudan Tribune on Monday by satellite phone, Unity state rebel spokesperson Peter Riek Gew said rebel forces had repulsed an attempted attack by the SPLA on their position.
Gew said five government soldiers were killed and two rebel fighters injured in Monday's battle in Kaljak, about 20km west of Bentiu town.
Unity state has been the scene of intense fighting between rebel forces and government troops loyal to president Salva Kiir since conflict erupted in mid-December last year, with Bentiu changing hands several times at the height of the conflict.