These bureaucratic hacks are just shifting deck chairs on a sinking ship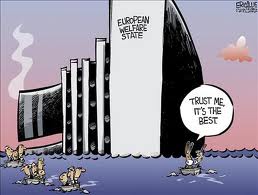 It's pretty pathetic. A bunch of politicians/bureaucrats sit around the table behind closed doors (none of which you or I can directly effect or appeal to, let alone get rid of) and choose our supposed 'leaders' . If this isn't the epitome of democratic despotism (soft tyranny by elective means) then the term means nothing at all.
NOTE: This is the kickback award for the mass misappropriation of public funds to failed banks and states, in spite of the law that they themselves voted into existence, because they were never really serious about abiding by it. In the private sector, Olli rehn would be sitting in jail, but here he is, a fact cat handed a fake VP spot.
Bob Dylan: "Steal a little and they put you in jail, steal a lot and they make you king." (Sweetheart Like You)
Veteran Finnish EU politician Olli Rehn nabs Europarliament vice-presidency
Experienced Finnish European Union politico Olli Rehn copped one of the 14 posts of Vice President of the European Parliament up for grabs. Voting for the new deputy speakers of the EU Parliament took place in Brussels Tuesday.
Finland's former European Commissioner Olli Rehn won the race to become one of the European Parliament's 14 vice presidents.
Backed by extensive experience on the EU circuit, Rehn served as European Commissioner for Economic and Monetary Affairs for four years, prior to which he was the EU's Enlargement Commissioner from 2004 to 2010. During European Parliament elections in May, Rehn was returned as an MEP for the Centre Party.
Yle correspondent Hannele Muilu had said Rehn was likely to win the nod of Europarliamentarians in Tuesday's vote. She noted that the largest EU political groups, the conservative European People's Party, the Party of European Socialists and the Alliance of Liberals and Democrats for Europe have pledged to support their respective candidates in the race. Rehn is affiliated with ALDE.
On Tuesday Social Democrat Martin Schulz was re-elected EU Parliament President. Schulz had previously served as President since 2012.
Confusion over vote count; Rehn elected in third round
There was some confusion over the vote count as newly-re-elected President Schulz misinterpreted the results of the vote for the vice-presidency. Following the second round of voting Schulz declared that Rehn had received the required number of votes to progress to the third round, although this was not the case.
Progressing to the third round requires an absolute majority of votes, in this case 346. Schulz declared that Rehn had received 384 votes, although only 304 MEPs had voted in his favour. However during the third round, the rest of the vice presidents who had not received the required majority were selected based on the number of votes they received; Rehn was among them.