Obama supposedly crafting sternly worded letter to jihadis.
Eh, "militants" would not be a word I would use to describe these murderous scum from the pit of hell.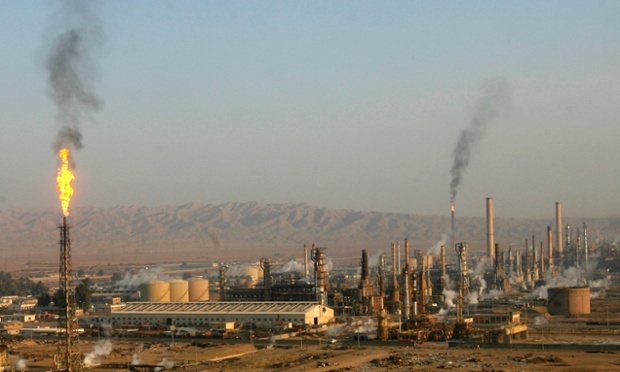 Parts of the oil refinery were in flames Wednesday, according to Iraqi security officials.
Crude oil edges toward $107 after Iraq refinery attacked
Militants may have 75% control of the oil facility
By William L. Watts and Barbara Kollmeyer, MarketWatch
NEW YORK (MarketWatch) — Crude-oil prices edged higher on Wednesday, with the U.S. benchmark pushing back toward $107 a barrel after militants in Iraq attacked the country's biggest oil refinery, underlining worries about potential threats to export facilities in the south.
Nymex WTI crude oil for July delivery CLN4 +0.44%  picked up 34 cents, or 0.4%, to $106.73 a barrel, partly recovering from a 54-cent loss on Tuesday. WTI crude is also taking a cue from expectations for tighter domestic supplies in the U.S.
The European benchmark, Brent oil for August delivery UK:LCOQ4 +0.15% , which is the most sensitive to developments in Iraq, rose 18 cents, or 0.2%, to $113.63 a barrel. Nymex crude last week topped $107 a barrel as the conflict in Iraq heated up, while Brent had briefly topped $114.
The refinery, located in the northern city of Baiji, is the biggest producer of refined fuel for Iraq's domestic markets. The attack doesn't affect production or exports from the country's main oil fields and facilities in the south. The attack, however, underlined concerns over the situation in the country.
"The refinery, which supplies Baghdad with gasoline and diesel, shows that the situation in Iraq is not getting better," said Phil Flynn, senior market analyst at Price Futures Group. "Oil companies are pulling out nonessential personnel even in the south of the country … Oil companies are trying to export while the exporting is good yet the possibility of an oil shock is rising [if] the south of Iraq starts to fall." See: Why traders may be overconfident about Iraq's oil exports .