Bullcrap.
What do we expect from a commander-in-fraud who does disastrous deals with the Taliban and then state otherwise. They are a bunch bald faced backstabbing liars who deserve to be in orange jumpsuits picking up trash from the sides of the nation's streets and highways.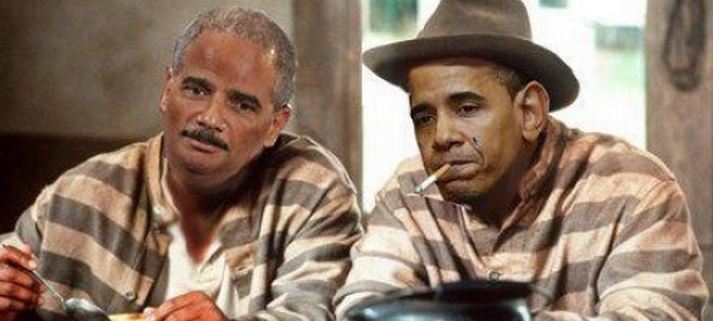 "I'm deeply troubled by the announcement that the United States will work with the Palestinian government backed by Hamas," Netanyahu told AP.
U.S.: There Are No Hamas Members in Unity Government
State Department rejects Israel's disappointment over its intent to cooperate with the Hamas-Fatah government.
First Publish: 6/3/2014, 11:13 PM
Swearing-in of unity government in Ramallah
Flash 90
The United States on Tuesday rejected Israel's expressions of disappointment over its statements that Washington was planning to cooperate with the new Palestinian Authority (PA) unity government.
Deputy State Department spokeswoman Marie Harf said, in fact, that the new government does not include any members of the Hamas terrorist group.
"It is not a government backed by Hamas. There are no members of Hamas in the government," Harf told reporters.
She added that the new unity government is a transitional one that is made up of individuals who are not politically associated with any party.
"Hamas is a designated terror organization in the U.S. and we will not provide it with any assistance. We don't have any contacts with Hamas," declared Harf, who added that Washington would judge the government by its actions.
The comments follow a series of angry Israeli reactions to State Department spokeswoman Jen Psaki's statement on Monday that Washington would "work with this government."
An Israeli official had said following Psaki's declaration that Israel was "deeply disappointed" by the United States' readiness to work with the new PA government.
Communications Minister Gilad Erdan called the United States "naive" following Psaki's comments and Intelligence Minister Yuval Steinitz accused Washington of hypocrisy.
Capping the reactions was Prime Minister Binyamin Netanyahu, who said on Tuesday he is "deeply troubled" by the United States' decision to maintain relations with the new Hamas-Fatah unity government.